Hey ya girlies!

No I haven't fallen off the face of the earth. :D I know, I disappeared suddenly but I needed some me-time off the blog, hence!
Today I am back with a review on the Lotus Herbals PureStay Lipgloss in shade Rose Bud, which is a gorgeous shade indeed. Read on my review to know more.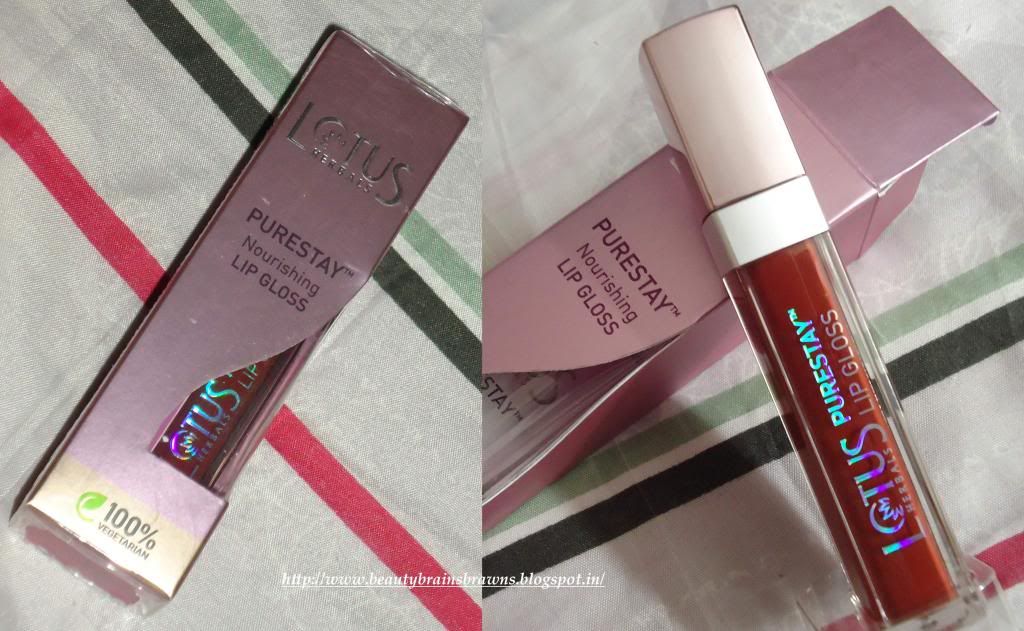 PRICE:
Rs. 395
WHAT IT CLAIMS:
Purestay Lip Gloss is a lightweight, high-shine, perfectly pigmented, preservative free lip gloss with rich, long lasting colour and nourishing shine that creates the appearance of fuller lips.
SWATCH:
MY EXPERIENCE:
Lotus Herbals PureStay Lipgloss comes in a rectangular tube with mirror-finish screw cap and doe foot applicator. The rainbow reflecting, embossed brand name on the tube looks quite nice, without being tacky. Rose Bud is a brick like shade, reddish brown with strong orange undertones, which would look flattering on Indian skin tones and best suited with ethnic wear on special occasions. The gloss is quite creamy and moisturising on its own and applies smoothly. It is highly pigmented and gives an opaque coverage with glossy finish. It is more like a liquid lipstick.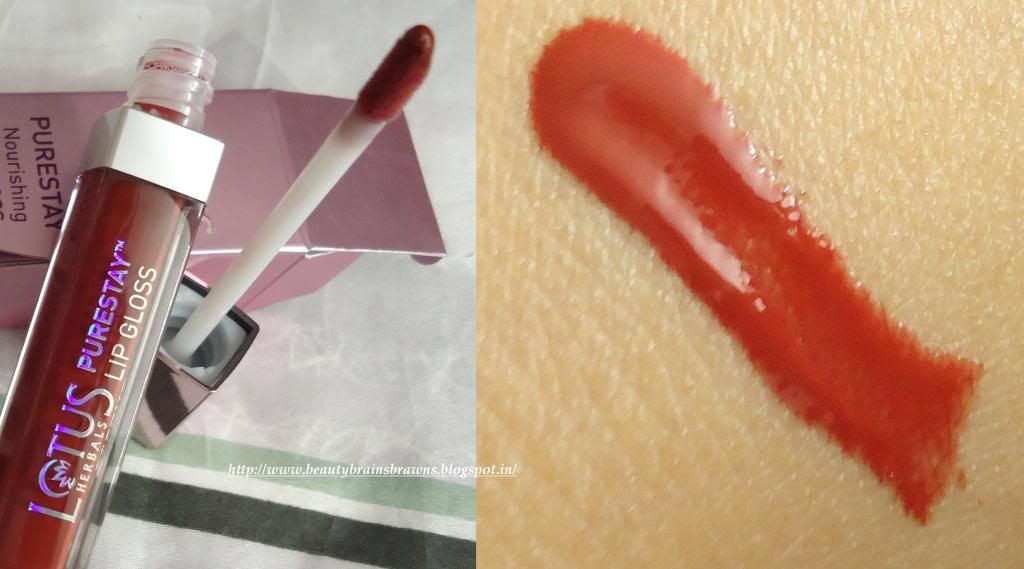 Coming to the staying power, it stays for 2-3 hrs on an average with slight snacking in between. However, it doesn't survive a full meal. Also it feels a bit sticky (not like other sticky glosses but a little sticky) and that's why it lasts for few good hours too. It does get transferred to cups / napkin/ cheeks or anywhere your lips get touche

d

:P. And it doesn't leave any obvious tint on lips after it disappears, apart from a slight red hue (not tint).

Overall I am quite happy with this gloss. To sum it up,
WHAT I LIKED:
Creamy and moisturising on its own. Doesn't require a lipbalm or lipstick beneath.

Gives opaque coverage in one swipe and a long lasting, smooth, glossy finish.

Stays for 2-3 hours easily with snacking in between.

The shade is really nice and would suit Indian skin tones perfectly.

No shimmer or sparkles.

The gloss would last for a long time and with 3 years shelf life, the price seems economical (but it is still high for an affordable brand like Lotus Herbals..

p

fft!).

Love the packaging.
WHAT I DIDN'T LIKE:
Gets transferred to objects.

Feels a little heavy and sticky due to its creamy

texture.



VERDICT:
If you are a fan of lipglosses then you must try

out

one shade from this range. Love the formula, love the packaging, the price... not much, but still happy to go with it because of the other factors. Would like to try the Peach Pink and Nude Love sometime. Have y

ou tried any of the Lotus Herbals PureStay Lipglosses?
RATINGS:

4.5 out of 5
Product sent by PR for consideration but it doesn't influence my honest opinion! Read my disclaimer.