Hey everyone! I am back with a review on Maybelline Color Sensational High Shine Lipgloss in shade Glisten up Pink. I know these glosse

s

are making rounds in the blogosphere and I just want

to add my two cents. So hear me out! :)
QUANTITY:
5ml
WHAT I
T CLAIMS:
More Vibrant Color from pure liquid pigments

Cleaner Shine from our 100% wax-free gloss

Creamier feel from nourishing honey nectar

Now gloss goes gutsy in 8 arresting shades

Expert Tip
MY EXPERIENCE:
Maybelline Color Sensational High Shine Lipgloss comes in a regular rectangular tube with mirror-finish screw cap and doe foot applicator. The shade Glisten up Pink is a baby pink color with a frosty finish. It is a pretty color indeed when it tones down a little but I would have preferred it

minus the silver shimmers that make it look so frosty on my skintone. But hey, it

says to give "high shine" on lips and so it delivers. ;)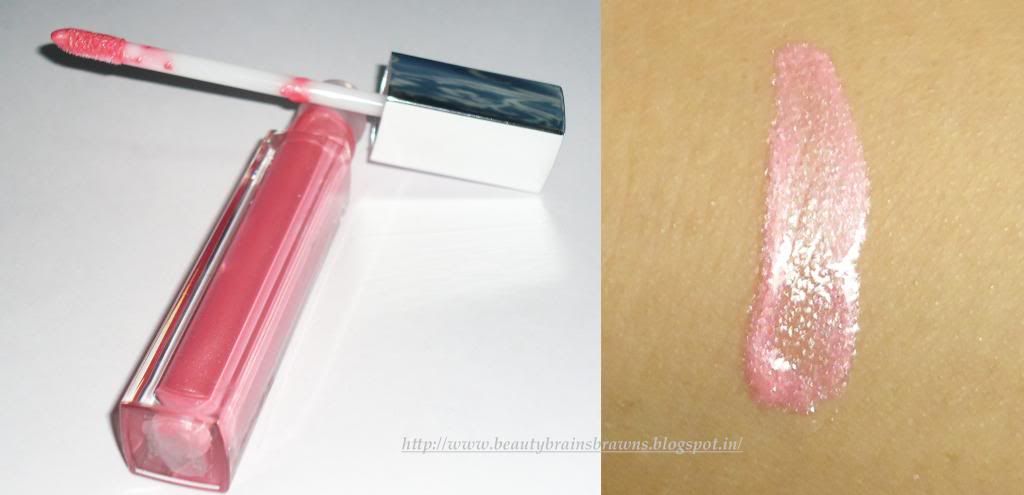 Like other Maybelline glosses, it is quite creamy but not as moisturising (probably because of the overdoze of shimmers, that also feels a little

gritty initially

). It is not that opaque and my lip lines gets more pronounced. It s

tays on an

average of 2-3 hours with a little snacking but it doesn't survive a meal (does any lipcolor do? I wonder who won't wipe their lips after

lunch/dinner...eeks! :P). Maybelline also hiked the

i

r price with this new range which is not fair..booh

oo

!
WHAT I LIKED:
Creamy gloss that glides easily on

lips.

Lightweig

ht and non-sticky.

On an average stays for 2-3 hours, and more if you don't snack

in between

.
Gives hig

h

shine as the name suggests

.

The shade is pretty itself but not e

xactly for my skintone.
WHAT I DIDN'T LIKE:
The silver

shimmers

gives a frostiness that doesn't suit me and also feels a

bit gritty on lips

.
This particular shade doesn't give

opaque coverage to my lips.

Prices hiked by

Maybelline.
VERDICT:
If you want a shade that would add shine to your lipcolor then you might try the Maybelline Color Sensational High Shine Lipgloss

in s

hade Glisten up Pink. It looks good with a

brownish or similar base color.

But this shade is not suitable f

or

all skintones, when worn on its own. Let me know whether you tried this!

**Product sent by PR for consideration but it doesn't influence my honest opinion! Read my disclaimer.