Hey ya ladies! Sorry for being MIA for a while. As I have told you earlier, I was busy with my besties' weddings these past few days, and what a gala time I had. Super refreshed and energised. :D
So here I am with another product review, and from a brand that had been here since my birth (okay just add ten years to that :P ), and IDK why I never tried anything from them ever. But, it's never too late, and I got the Revlon Scented Nail Polish in the shade Beach (#fact Did you know the first product by Revlon was a nail enamel?! ;) ) in my recent Myntra Haul.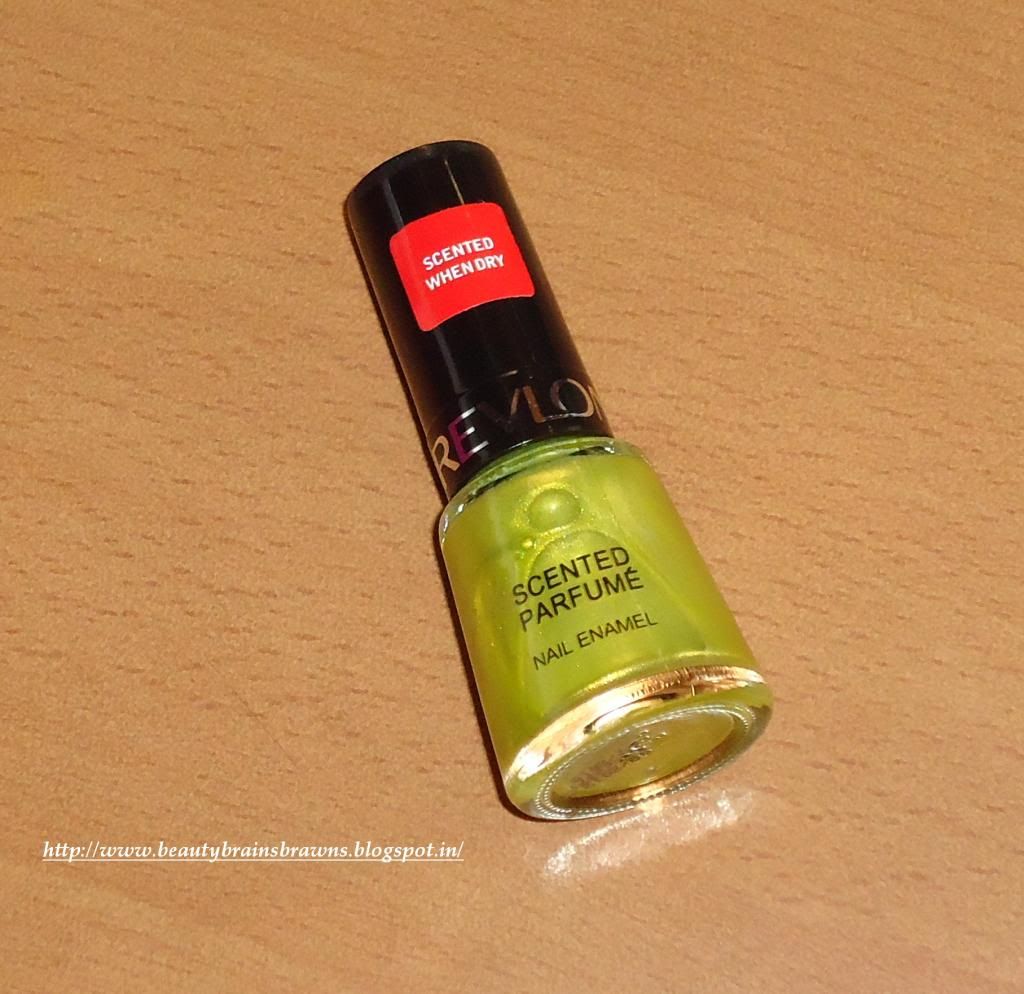 SWATCH: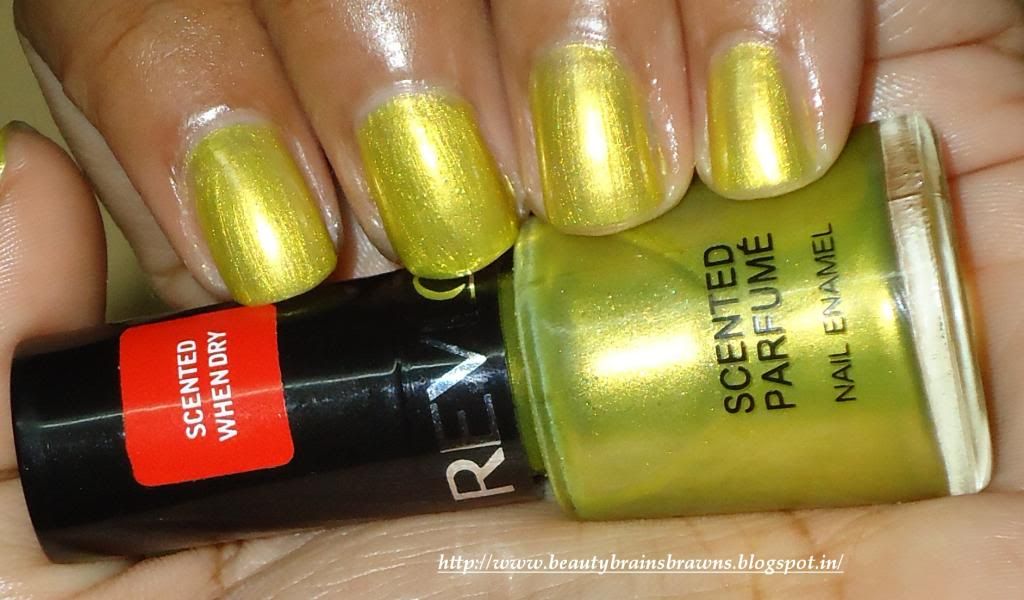 MY EXPERIENCE:
I was
attracted to the frosty pista green shade, and to top that the promise of scented nails! I had to get this! The consistency of the p

o

lish is thin, and the nail line is still visible after two thick coats. However, I am really impressed with the longevity of the nail polish. It stayed without any chipping for 3 days, post that only very slight chipping at the tips due to daily torture my nails face (always

clicking and typing away on my laptop).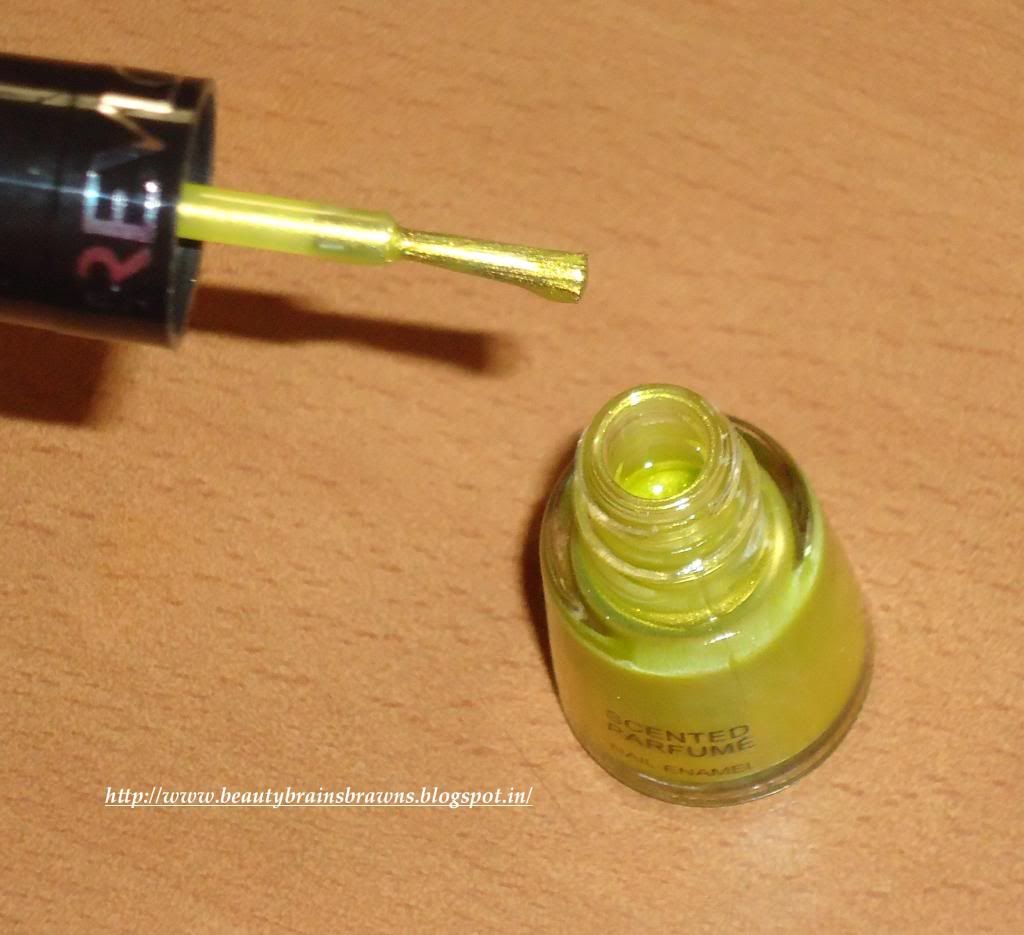 Coming to the magical claim of the scented nails. I was first miffed at the alcoholic smell of nail polish when I tried to smell

in

the bottle and also while application. Later read the "Scented when dry" tag on the cap. It dried up pretty fast, and then the scent got more discernible. But it doesn't smell anything like beach, but more like

those of

perfumed ink pen
, and really I didn't expect that

on my nails

. It is

n't bad/OTT, but not so good
too and I could smell it till the next day, after which I stamped some design and used a top coat, and the scent then b

ecame quite indiscernible.
WHAT I LIKED:
Thi

n consistency but applies smoothly.

Dries up pretty fast.

The brush is of good quality and ma

kes application easy.

I just love this

golden green

shade

.

Maintains the shine/glossiness till removed.

Doesn't chip till 3 days, and wears off

just

at the nail tips post that.

It is Toluene & Formaldehyde free.

I guess it is a first and one of a kind

s

cented

n

ail

e

namel avai

lable in India.
WHAT I DIDN'T LIKE:
Not a big fan of the smell, though it's not OTT.

Requires 3-4 coats to get opaque.

Though there a

re

16 shades in this range, but not all are easily available. (Saw only 4 on Myntra).

VERDICT:
I loved the shade

,

the quality and the glossy finish, but the consistency could have been a bit thicker. At this price, it is definitely worth a try but maybe in some other scents.