Hey ya ladies! Yeah I am still alive! Busy with Pujo shopping. Haven't found my perfect pair of shoes yet and only 10 days to go, before pandal hopping starts #panicmode
:-SS (4 days to Mahalaya)! Hopefully, tomorrow I would be able to get something that goes with my wishlist.
Coming back to today's post, this is my first experience with any TBS product and I was pretty excited to try out the The Body Shop Moringa Shower Gel. Read on to know whether I liked it or not.
INGREDIENTS:
Water, Sodium Laureth Sulfate, Glycerin, Sodium Cocoamphoacetate, Cocamidopropyl Betaine, Polysorbate 20, Honey, Sodium Chloride, Citric Acid, PEG-18 Glyceryl Oleate/Cocoate, Fragrance, Myristamidopropyl PG-Dimonium Chloride Phosphate, Phenethyl Alcohol, Caprylyl Glycol, p-Anisic Acid, Propylene Glycol, Linalool, Hexyl Cinnamal, Butylphenyl Methylpropional, Disodium EDTA, Benzyl Salicylate, Geraniol, Moringa Oleifera Leaf Extract, Sorbitol, Caramel, Yellow 5.
WHAT IT CLAIMS:
First used in Ayurvedic medicine some 4,000 years ago, moringa seed oil comes from the moringa tree, which is native to northern India. It is known as the "miracle tree" due to its wide variety of beneficial uses. In Ayurveda, it is used as a natural antibiotic, an aid in childbirth and for treating liver problems. But that's not all. The oil was highly treasured by the ancient Roman, Greek and Egyptian civilizations for use in protecting the skin and making perfume. It was so good they even used it to create their own skin smoothing product!
This soap-free shower gel contains real moringa seed oil and has the delicate scent of white flowers. Soap-free Lather-rich Delicate floral scent.
MY EXPERIENCE:
The Body Shop Moringa Shower Gel comes in a clear plastic round bottle, flip top cap packaging. It is pale golden in color and runny in texture. Only a little amount is required to lather. I was surprised to see it lather so much with such little quantity, and that too being soap-free. TBS, pray tell how??!!
Works equally well with and without a loofah.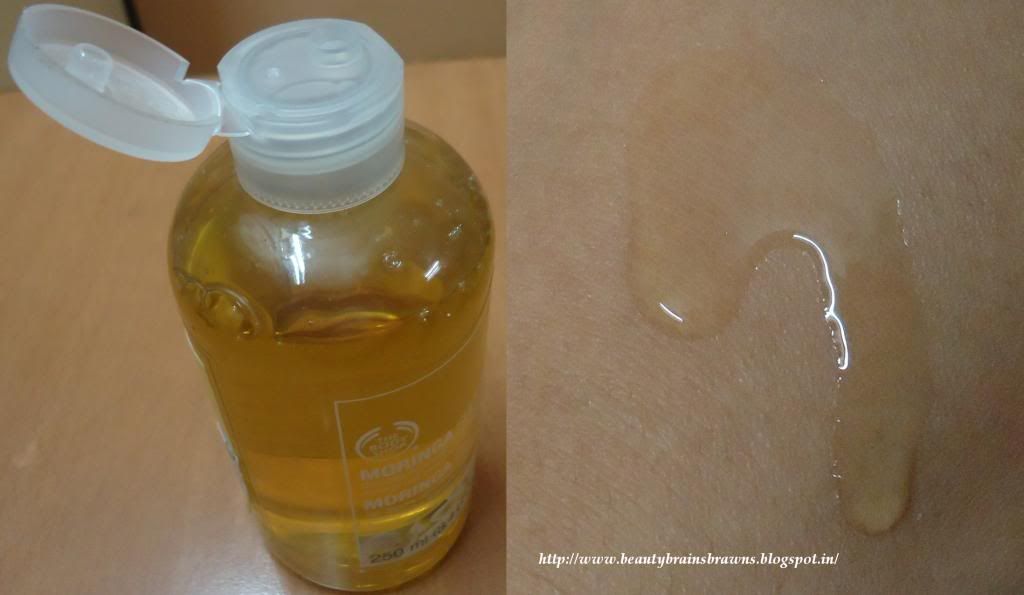 Coming to the smell, it is a sweet, flowery smell that is quite relaxing on its own. However, if you use too much of the product, the smell turns a bit bitter. Unfortunately, it doesn't linger on me, except on my palms. :P It washes off easily without leaving any slippery or dry/stretchy feeling, but I don't skip the moisturiser altogether. Since only a little amount is required, one bottle lasts more than a month easily, even on daily usage. To sum it up,
WHAT I LIKED:
It is soap free, yet lathers really well.

Only a little quantity is required to lather, hence one bottle lasts really long.

If you love flowery fragrances then you would love the moringa smell.

It doesn't leave any slippery feeling, neither does it dry out my skin.

The flip top cap packaging is effective and travel friendly.

TBS doesn't test on animals as you might know.
WHAT I DIDN'T LIKE:
I had hoped that the smell would last longer, but it didn't.

Sometimes I do find the fragrance a bit overpowering.

Pricey, but that's TBS for you ;).

Available only through TBS stores and some online shopping sites.
VERDICT:
I am quite happy with my first TBS product experience, though I wish the smell had lasted longer. Pssssttt...I have got another
TBS shower gel in Love Etc, but I am yet to open it and try it out. Let me know your thoughts, if you have tried this shower gel, or your favourite shower gel from TBS.