Hola ladies! Hope you are having a great Sunday. Mine just got better (new job...the reason why I went missing for a few days, and first weekend...yayiee :D ...and will be less active for coming weeks too :( so apologise in advance :P..Haha! :D )
Anyhow, coming to today's review, hear me out on what I have to say about the Aloe Veda Cedarwood Luxury Shower Gel, that I have been using for last few weeks.
PRICE:
Rs.180
INGREDIENTS:
WHAT IT CLAIMS:
Energise your day with the Aloe Veda Cedarwood Luxury Shower Gel. This natural shower gel can make your skin squeaky clean whilst leaving behind an exceptional aroma.
The natural Cedarwood shower gel from Aloe Veda is a formula made from ingredients like Glycerin, Aloe Vera Gel, Vitamin E, Cedarwood Essential Oil, Rosemary Essential Oil and Sandalwood Oil which combine to revitalize your skin from deep within. The Aloe Vera gel found in this shower gel restores the skin's lost moisture by essentially hydrating all the layers. In addition, Aloe Vera extracts can also remove dryness and blemishes from the skin, thereby giving you a clear complexion. In addition, the cleansing shower gel removes impurities and pollutants to reveal bright skin. The Cedarwood Essential Oil present in this shower gel possesses a unique aroma that neutralises body odour. This luxury shower gel also contains Rosemary Oil which boosts blood circulation, thereby making your skin healthier.
T

he Aloe Veda shower gel is infused with Sandalwood Oil which is a great antiseptic agent that can soothe inflammations, burns, and wounds whilst leaving your skin with a refreshed coolness. You can attain visibly lighter skin by the presence of sandalwood, since it is a natural skin lightener. Your body will have a fresh woody fragrance throughout the day from the Cedarwood, Rosewood and Sandalwood existent in this nourishing shower gel. You can use the Aloe Veda shower gel every day since it is free of soap and does not harm your skin.
MY EXPERIENCE:
P

hew, quite a lot on the

claim part

. But does it

fare equally well in real?

Aloe Veda Cedarwood Luxury Shower Gel comes in a simple flip top cap packaging. The texture is very thick gel like, which kind of slips from your palm if you are not careful, leading to wastage. But, other than that I liked everything else about it. 4-5 blobs of the gel is enough and lathers pretty well. It has got a strong sandalwood smell and it reminds me of those Mysore sandalwood soaps which I used to use centuries back :P. On the flip side, if you are not fond of the smell, it might bother you as it is quite strong and

persists on skin for a while.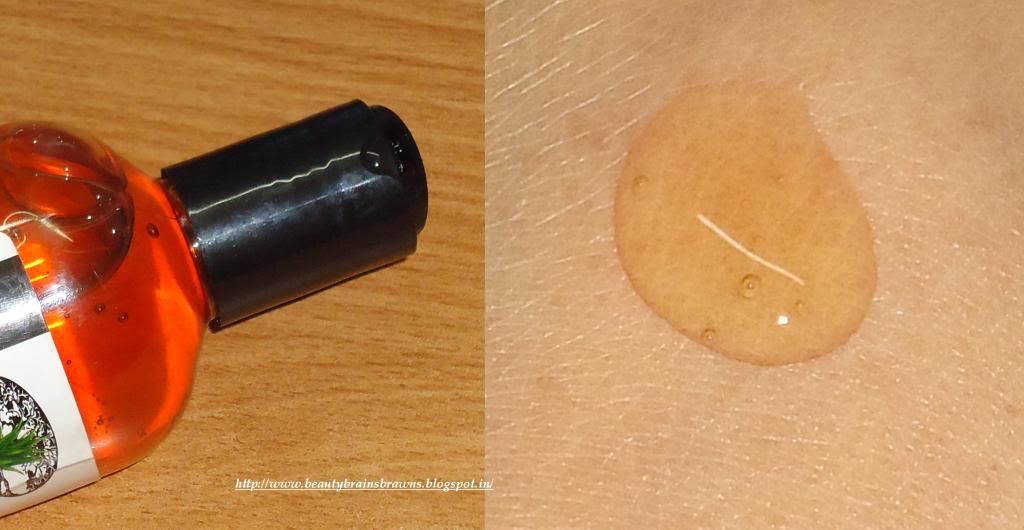 The claims are a bit sky high, as it doesn't heal or soothe skin as such, but doesn't irritate or dry out skin either, though one can't skip a moisturiser totally, esp. if you have dry skin like mine. Cleanses skin without leaving any slippery feeling. The price is economical as the quantity would last really long, and also you can get it with some discounts from most online

shopping sites.
WHAT I LIKED:
Soap free (TBS you have got a competition here :P) but lathers

very well.

Only a little amount is required

, hence one bottle would last long.

Strong sandalwood smell that persists

for a while post bath.

Simple, effective flip top cap packag

ing.

Price is economic

al.

Comes in many other varian

ts.



WHAT I DIDN'T LIKE:
The texture is quite thick and slips easily leading to wastage if one is not careful.

The claims are a bit tall IMO, and it supports t

he effects of individual ingredients, rather than that of a mere shower gel. :P



VERDICT:
I quite liked it and already ordered another variant. Need I say more? :D Let me know

if you have tried the Aloe Veda Luxury Shower Gel. :)