Hey ya beauties! :-h Weekend is here and I am sure you guys are pretty busy with the Diwali preparations and all the last minute shopping. And just in case you are planning to get a hot shade lippy for yourself to rock this Diwali, then just hear me out or rather read on my review for the ColorBar True Gloss Lip Gloss in Shade Nectar Orange.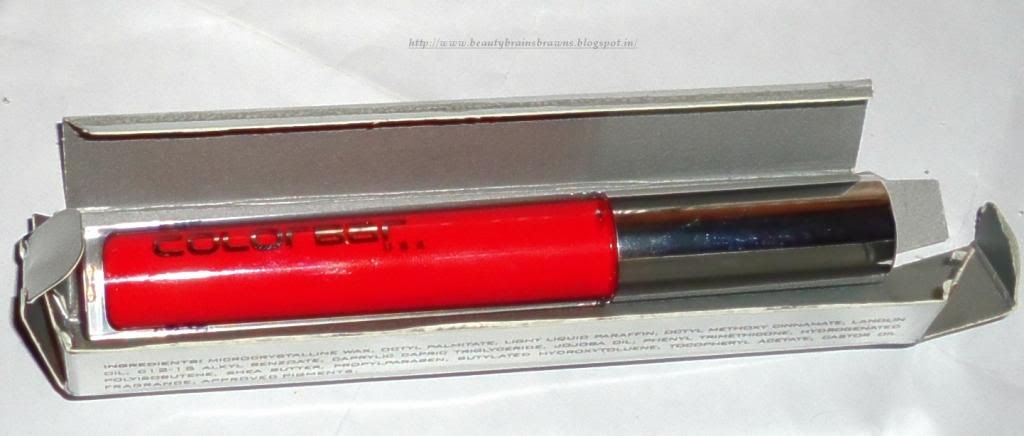 PRICE:
Rs. 495
INGREDIENTS:

WHAT IT CLAIMS:
Colorbar True Gloss collection is here to expunge your woes of having to touch up your lip gloss every now and then. It is highly pigmented and gives your lips a divine shine. Its ultra-moisturizing formula will keep your lips soft and smooth for hours together.

True Gloss is a glossy, non-sticky, pigmented, opaque coverage, moisturizing, long lasting lip color. It doesn't get patchy or uneven and feels very comfortable, light and hydrating on the lips and stays for a LONG time without getting sticky/drying or uneven.
SWATCH:
MY EXPERIENCE:
OMG, just look at the color, it looks so different in different light/camera settings, and all the shades are true I promise, I didn't add any filter or anything. However, the first and second pic in the top row actually matches the original tube color. It is a bright, a very bright, coral with hues of dark pink, that fades to a reddish tinge, colored lipgloss. It is so highly pigmented that one swipe deposits enough color to hide pigmentation. On initial application it looks bright red orange, that then tones down to a more orangy shade. After an hour or so the glossiness vanishes, and then I am left with a rusty red tint that lasts for 4-5 hours, so it is definitely long lasting.
I do not dare to wear this gloss in its full strength outside, just wear it as a tint (as seen in the first two pics here). And it lasts for 2-3 hours easily that way, after which I need re-application. It doesn't survive heavy meals but lasts through little snacking. When worn in full strength, it tends to bleed a little, so you need to be careful. It is quite creamy and moisturising on initial application, but after 4-5 hours I feel it dries up my lips a little. This new range from ColorBar, though priced a little higher, is certainly a must try.
WHAT I LIKED:
Amazingly pigmented.

Quite long-lasting being a gloss.

Creamy and moisturising, and not sticky/shimmery like other glosses.

The shade Nectar Orange is a bright orange/coral pink shade that looks quite different under different lights, and would suit most skintones, as it just brightens up the face.

No nonsense, glass tube packaging with a doe foot applicator.
WHAT I DIDN'T LIKE:
Bleeds a little.

My lips feel dry when the tint fades away, so a lip balm beneath is recommended.

The price is slightly high.
VERDICT:
I am eyeing to get another one from the pink family from this range. I am sure you too would get a fave from the 10 amazing shades available in this True Gloss range. Let me know if you have tried any of the ColorBar True Gloss Lip Gloss.
RATINGS: 4.5 out of 5