Hello buddies! :) I know many of my readers are wary of chemical ingredients in their skin/hair care products and always look for natural alternatives. For those, I am going to review a shampoo from a brand which believes in pure natural living. It is Omved Brahmi and Peppermint Purifying Shampoo.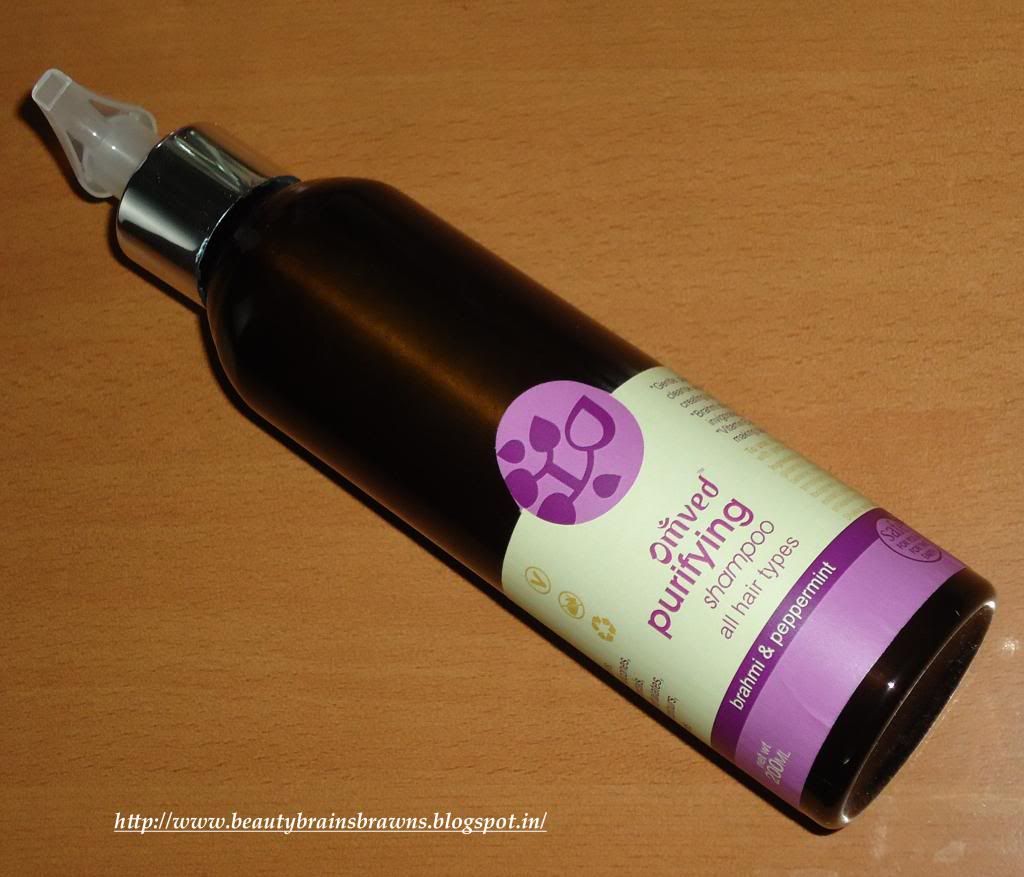 PRICE:
Rs.640
QUANTITY:
200 ml
INGREDIENTS: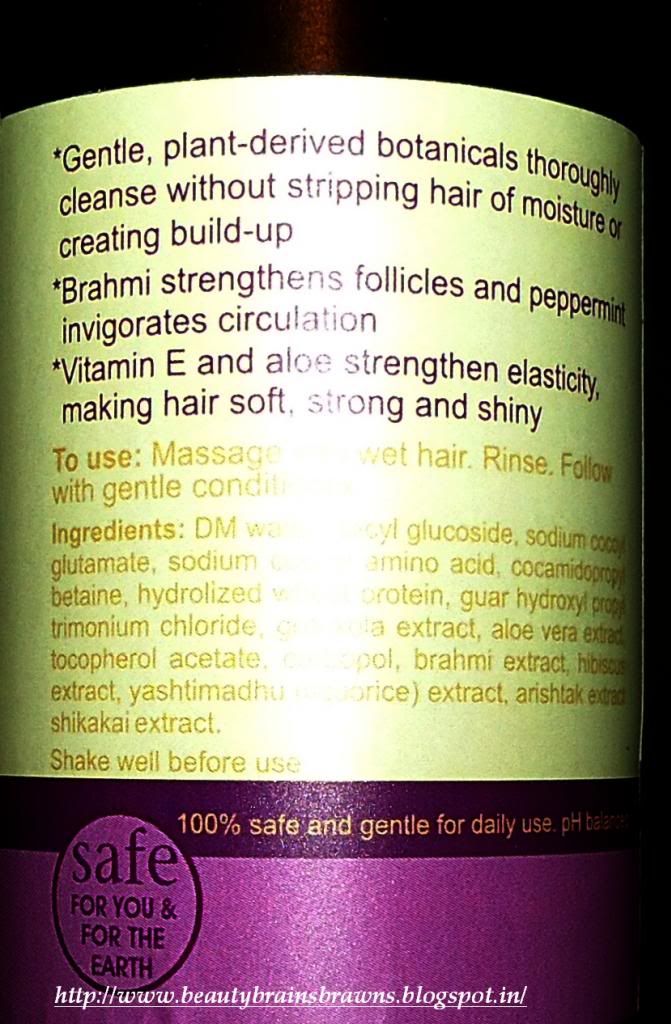 Sorry for the blur in the image. I am listing the ingredients h

ere

,
Purified water, decyl glucoside, sodium cocoyl glutamate, sodium cocoyl apple amino acid, hydrolyzed wheat & soy protein, tocopherol acetate (vit. E), extracts of aloe vera, brahmi, xantham gum, hibiscus & mandookparni, sodium benzoate, guar hydroxypropyltrimonium chloride, sodium benzyl alcohol, potassium sorbate, oils of lavender, grapefruit & peppermint.
W

HAT IT CLAIMS:
Gentle plant-derived botanicals thoroughly cleanse without stripping or build-up

Brahmi strengthens follicles & peppermint invigorates circulation

Vit. E & aloe strengthen elasticity, making hair soft, strong and shin

y

NO parabens, sulfates, silicones, petrochemicals, glycols, phthalates, synthetic colours or perfumes
MY EXPERIENCE:
First let me give you some insight on the brand,
Omved products are steeped in Ayurvedic wisdom, are based on the same herbal compounds and botanicals used by the ancients to enhance their beauty and well-being. The products are enriched with significant quantities of 100% natural "active extracts" and achieve exceptional skin that reflects health, beauty and harmony. Omved formulations are all - paraben-free, sulfate-free, petrochemical-free, artificial dye-free and synthetic-free, completely free of any unnatural and toxic ingredient. No animal extracts or ingredients of animal origin are used either in processing or in the finished product, and never will be.
Now coming to today's review, Omved Brahmi and Peppermint Purifying Shampoo comes in a sturdy bottle with a pump dispenser. The shampoo is runny in texture and colorless. It has got a strong peppermint fragrance, and if you have been on this blog for long you must know how much crazy I am for peppermint. Though on hair it doesn't smell of mint(thankfully!) but a subtle sweet smell, which might be of brahmi or the grapefruit, IDK

.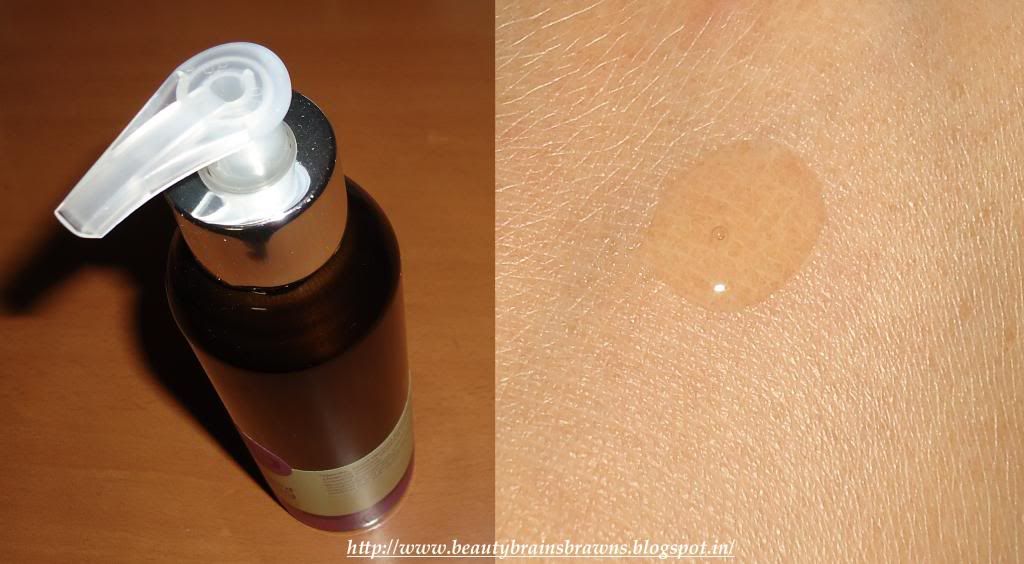 It doesn't strip hair of moisture, makes hair soft and shiny, and since one week I have been using it, I am seeing comparatively less hair breakage (my hairfall got aggravated due to the season change and now it i

s much better)

, though it doesn't claim to stop hairf

all or anything

. Sadly, it doesn't lather much and I require almost double the quantity I use, to shampoo my hair properly, hence it would finish up fast and the price being so high, it definitely hurts the pocket. Also, I feel as it is so gentle, it doesn't clarify the scalp much. So it would suit fine hair/dry scalp better than thick hair/oily scalp. Since I lie in between this range, I am
neither too

im

pressed

nor too unhappy about it.
WHAT I LIKED:
A gentle shampoo that keep the moisture of the hair locke

d.

Makes ha

ir soft and shiny.

Noticed less

hair breakage.

Awesome peppermint smell, minus the cold sting.

Parabens and chemical free

, and doesn't test on animals.

Effecti

ve and sturdy packaging.



Doesn't work on my frizz problem.

Doesn't clarify scalp.

Requires loads

of shampoo to lather well.

The price.

Available only on selective websites and their own web store.
VERDICT:
Those who follow and use natural, paraben free and chemical free ingredients, Omved has a lot to offer. If price isn't a factor for you,

I would recommend this shampoo
to all who

have dry

scalp, or thin/fine hair. It is gentle and effective and also curbs hair breakage to an extent. Hope my review helps. Let me know if you have tried this.
RATINGS: 4 out of 5
**Product sent by PR for consideration but it doesn't influence my honest opinion! Read my disclaimer.