Being a lipgloss girl through

out my teens

, I have taken a complete U-turn and started getting addicted to lipsticks nowadays. However, there are few glosses that you just cannot overlook. I have been a fan of Colorsensational range of lipsticks from Maybelline (reviews here & here), and I wanted to try out one gloss from this range, and Hooked On Pink being the cult favorite (I was yearning for a pink gloss too), I got this one to try out. But is it worth the hype?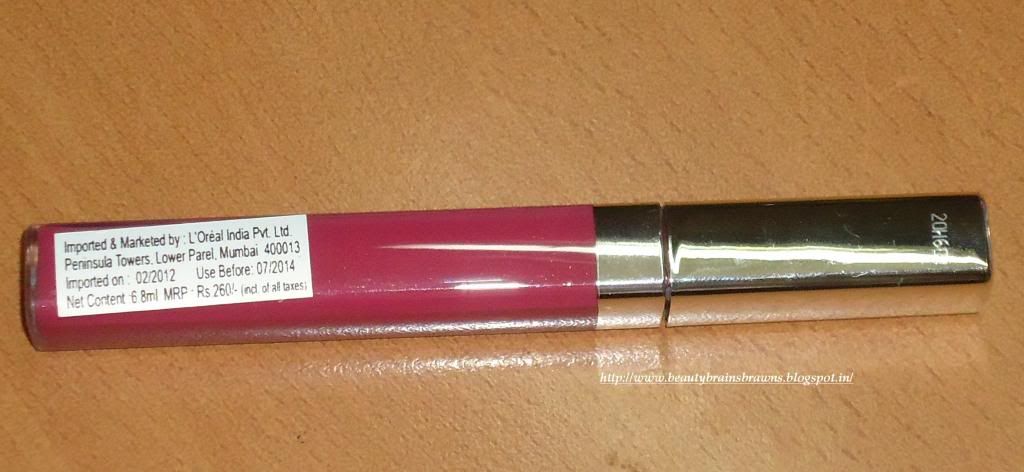 WHAT IT CLAIMS:
Sophisticated color and shine

Lips feel luxuriously soft and supple with nourishing honey nectar

Use the wand to apply lip gloss starting in the center of your upper lip.

Work from the center to outer edges of your lips, following the contour of your mouth. Follow the same technique for your bottom lip.

Available in 10 beautiful shades
SWATCH:
MY EXPERIENCE:
Maybelline Color Sensational Lip Gloss comes in a compact transparent tube packaging, with a silver cap and doe foot applicator. The shade Hooked On Pink is a pretty pink shade with

subtle golden shimmers, that are hardly visible on lips. The gloss is completely non-sticky and very moisturising. Even when it wears off, lips feel soft and nourished.
As it doesn't stick to lips, the staying power is not that gr

eat and it

fades within

2 hours on me.

I

t fades with light snacking, and doesn't leave any tint, but for the price I feel this is a pretty good lipgloss in terms of quality. Only thing I don't like at all, is that if I layer it for more color, it turns a bit gloopy and gathers at the edge of the lips. I guess this is because of the applicator wand, where the spongy head isn't much soft. To sum it up,
WHAT I LIKED:
Creamy but light texture and

very moisturising

that keeps lips nourished even after it wears off.

Non sticky and have subtle shimmers,

minus

any grittiness

.
Pretty,

glossy, bright pink shade.

Has a subt

le fruity

smell that is hardly noticeable.

Hides pigmentation on lips to an extent.

P

rice doesn't hurt pocket much.

Nice and simple packaging.

Expiry date mentioned on the tube.
WHAT I DIDN'T LIKE:
Turns a bit gloopy

on layering.

Wears off in 2 hours and requires re-applicat

ion.

Doesn't leave any tint, only shine due to the subtle glitters present.



VERDICT:
This is great for those, who run away from glosses because of stickiness/shimmers, or couldn't brave lipstick colors much.

This a

dds a pop of color and glossiness, and there are very less lipglosses of this quality at this price. For me, I like it, but not madly in love with it

. ;) :P