Hey ya buddies! :) Now that the festivities are almost over, what are you looking forward to? Ofcourse, the wedding season. :D Well, two of my friends are getting married this year (Ahhh! the pressure :P) and one of them is literally a "chaddi buddy" of mine (we are friends from Lower Nursery, and are soon going to celebrate silver jubilee of our friendship ;)

:P

) and the other one is a college friend from my grad's days. Yay I am so excited and looking forward to these two events.

:D
Now coming back to today's review, I am going to review the Pond's Gold Radiance Ultra Rich Day Cream from the Pond's Gold Radiance Ultra Rich Range (launched a few months ago), specially made for dry skin.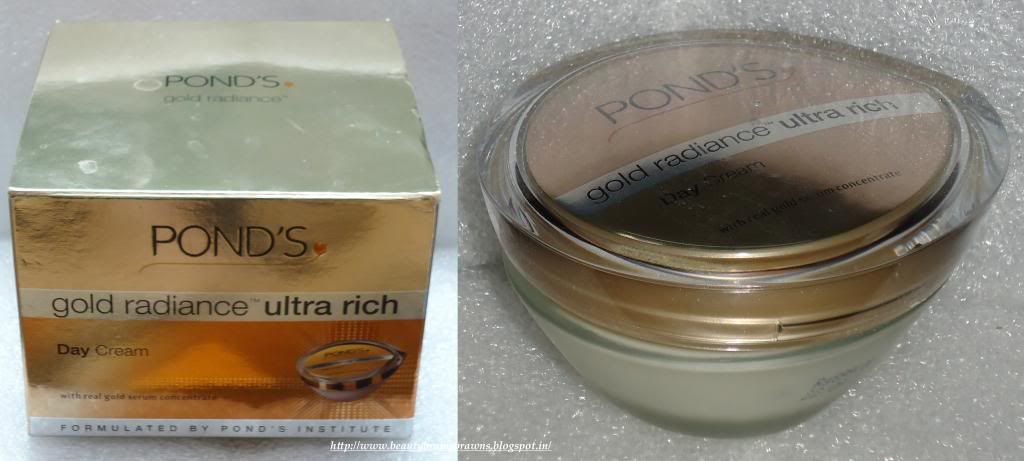 INGREDIENTS:
WHAT IT CLAIMS:
Pond's Gold Radiance Ultra Rich Range Dry skin is different and struggles more to look young. As dry skin ages, it suffers even more from dullness and dryness, and requires extra care. The new Pond's Gold Radiance Ultra Rich range is designed especially for dry skin. Infused with real gold serum concentrate, this super rich formulation goes deep down to give ageing, dry cells the extra help they need to recapture the youthful radiance. As the ageing cells are revitalized, dry skin becomes younger looking, luminous and alive again.
This range includes:
1. Ultra Rich Night Capsules (40 capsules, 12ml) - Night treatment capsules designed to bring back your skin's youthful radiance.
2. Ultra Rich Day Cream (50ml) - Day cream designed to nourish dry skin every day.
3. Ultra Rich Serum (30ml) - Night treatment to deeply nourish skin cells for faster results.
MY EXPERIENCE:
Since, this product is meant for dry skin/extra dry skin, I was quite excited to try this out. As it is ultra rich,

so

in humid weather it felt a little heavy

on my dry-combi skin, but now that winter is here, my skin is loving it. Hence, I took so long to review this cream.
It comes in this heavy glass tub (like the
Pond's White Beauty Daily Spot-less Lightening Crea

m
), in golden color that looks really classy, and comes with small spoon to scoop out the product and maintain hygiene (brilliant idea Pond's :-* ). The cream is thick (yes, it's ultra rich) in texture but gets absorbed quickly and moisturises skin really well and

I don't require any re-application, unless I wash my face.

The gold particles present in the cream gives an instant luminous effect and my face looks br

i

ghter, but if used in excess it gives a whitish cast for a while, till

it gets totally absorbed

.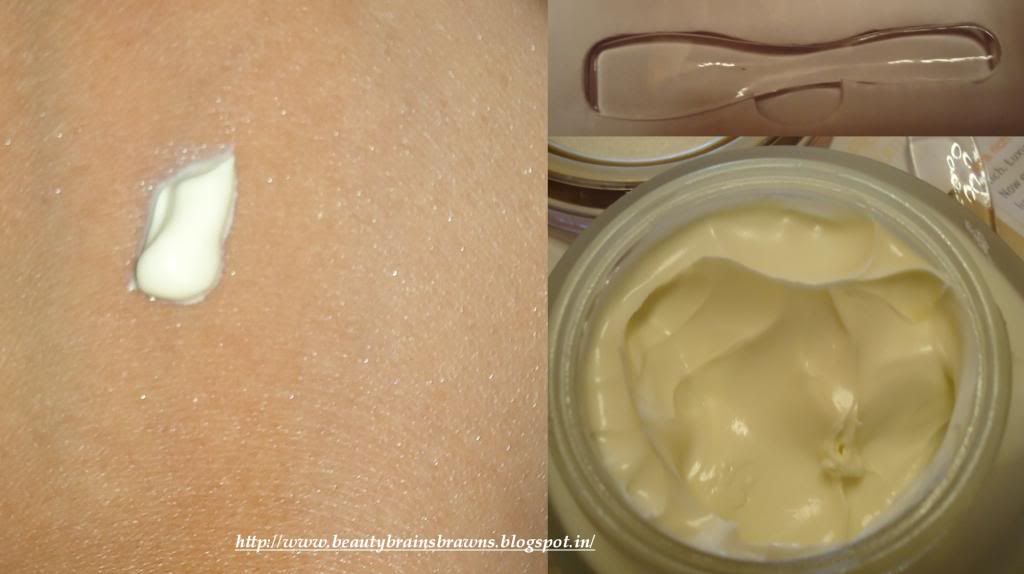 I blended a little of the cream on my hand.Can you see the shimmers on my hand swatch?
I don't know whether the gold particles are real or not (since gold prices are going up everyday ;) ), they look like golden shimmer to me that gives a radiant, luminosity to my face, which looks good from a distance and also pictures well, but are quite discernible on close inspection, and that doesn't make it a suitable day cream for everyone, esp. for office-goers. The mild fragrance is quite similar to other Pond's ranges. On prolonged use, I didn't see much changes, but then I haven't tried all the other products from this range, and also I don't have much aged skin to see any stark difference. On the positive side, it didn't cause any breakouts even though it is so rich in texture, and my skin does look a bit more radiant now.
WHAT I LIKED:
Ultra

rich cream specially meant for dry skin.

Moisturises skin really well and doesn't require re-application even in this dry weather, unless I wa

sh my face

.
The micro golden shimmers provides instant radiance and

adds a luminosity to face.

Didn't cause any breakouts or s

kin irritation.

Beautiful and classy packaging and comes with a small spoon to maintain hygien

e.
WHAT I DIDN'T LIKE:
The price of this range is really high and you need to use all the other products in t

andem to see any visible changes and long lasting effect.

The golden shimmers are quite noticeable from close

distance.
VERDICT:
If price isn't a factor, then this range would work great on dull, dry skin, but the golden shimmers/particles could be a little bothersome during day

time.
RATINGS: 4

out of 5
**Product sent by PR for consideration but it doesn't influence my honest opinion! Read my disclaimer.