Hey gals! How are you doing? Today I am going to review the Philips SalonStraight Active Ion HP8310 Hair Straightener, which is my first ever hair straightener ever. So read on to know more.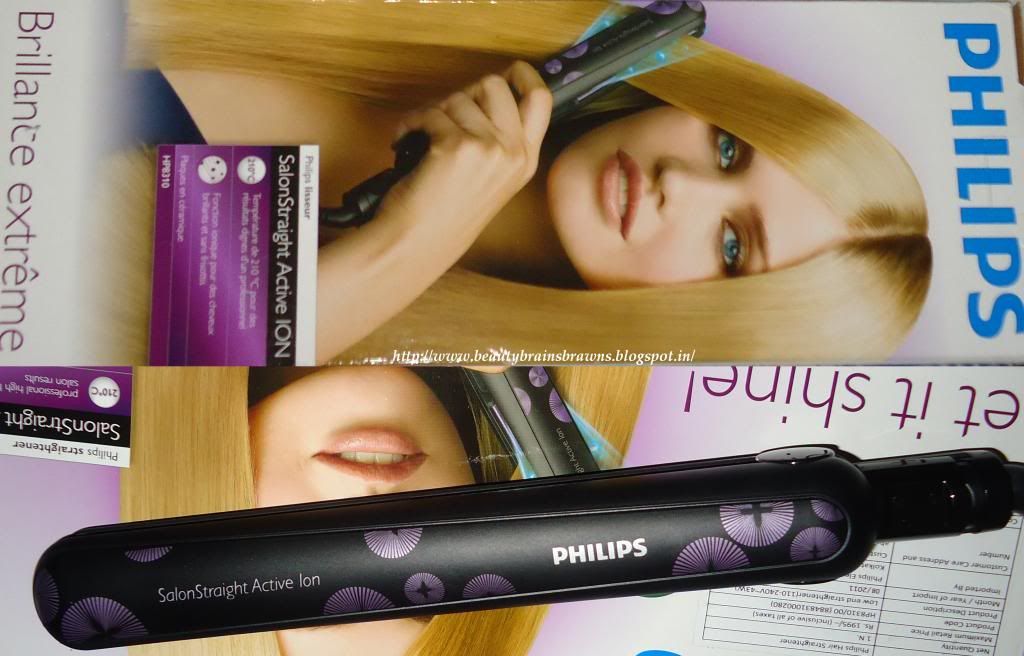 PRICE:
Rs.1995
210C professional high heat for perfect salon results

Ion Conditioning for shiny, frizz free hair
Ceramic plates for smooth gliding and shiny hair
Fast heat up time, ready to use in 60 seconds

Automatic shut-off after 60 min

Easy lock for convenient storage

Swivel cord to prevent tangled wires

1.8 m cord for maximum flexibility

Universal voltage
DETAILS:
Long swivel cord.

Thin purple plates

Mini On/Off switch.

Easy lock.
MY EXPERIENCE:
As this was my first hair straightener, I was quite apprehensive

about

us

ing

it correctly, without causing any damage to my hair. However, I found it quite easy to handle and use beign a first t

i

me user, although I had a few mishaps too. First thing is that, it heats up pretty fast, within 60 secs, and I prefer to switch off the button before putting it on my hair, to lessen the heat damage, and go over each section of hair 2-3 times, and switch it on again to heat up and use it on other sections of hair. This is entirely my own process of using it, as I have semi straight hair which do

esn

't require much heat and I also use a heat protector spray to prevent further damages. Secondly, I would like to warn you that, never use it on wet hair, not even semi wet or slightly wet, unless you want to get steamed-fried hair. Yeah I got a one

-

time experience of that,

with steam coming out of my hair and that frying sound. :P
For best results, I follow this process-> S

pray the
heat protect
or spray
on semi wet hair, use a hair dryer on med

ium heat

to dry up hair, then use t

he straightener
.
Coming to the results, it adds a glossy shine, and gives perfect salon like straight hair, yet it doesn't feel wiry/rough, but very soft and smooth to touch (the added benefit of the
heat protect

or spray I guess)
,
and combats the frizz problem of my hair exceptionally well, the sole reason I got this
straightener for.
(*Updated Pictures)
BEFORE:
Just combed through hair. As you can see my hair is frizzy and slightly wavy and almost shapeless.
AFTER:
It does look much better and shinier and in a proper shape. ;) ( Oops I missed some strands at the

back. :P )
The effect lasts almost the whole day (well more than 9 hours, the longest I tried to maintain it and then I slept on it, and my hair still

felt quite smooth and straight even next day). And even on frequent use during the Pujo, it didn't cause any damage to my hair, but I won't recommend you to use it everyday/frequently, as heat does damage hair in the long run. It also works great to add bouncy curls at ends, however I am still not an expert to use it to curl the length of my hair. Coming to the packaging, I just love the whole look of it, the purple plates, the black body with the design, the swivel cord, the easy snap lock to snap shut the plates for compact storage, whoever has designed it has done a great job indeed. All in all, I just loved it.
W

H
AT I LIKED:
Gives perfect salon like hair.

The ionic plates add

s a glossy shine to hair and combats frizz.

Lightweight and easy to handle.

Love t

he overall effective

, compact design and the classy look.

The straightened effect lasts more than 9 hours on me, with very little frizz/flyaways (I have/had straight hair

, which got a little wavy due to all the layers)

.
WHAT I DIDN'T LIKE:
Won't work on wet ha

ir.

Not a con for any specific st

raightner, but the whole process is quite time consuming. :P



VERDICT:
If you are looking for a moderate priced hair straightener that really works, then Philips Salon-Straight Active Ion HP8310 can be a

great option.