Hey gals! I know I promised you to be regular here, but went missing again :( Well, all the junk I had during the Pujo, took a toll on me

, and

I wasn't well for past few days and am still in the recovery mode.
Anywho, today I am going to review another most requested product on B.B.B, which is the Sunsilk Keratinology Heat Protector Spray.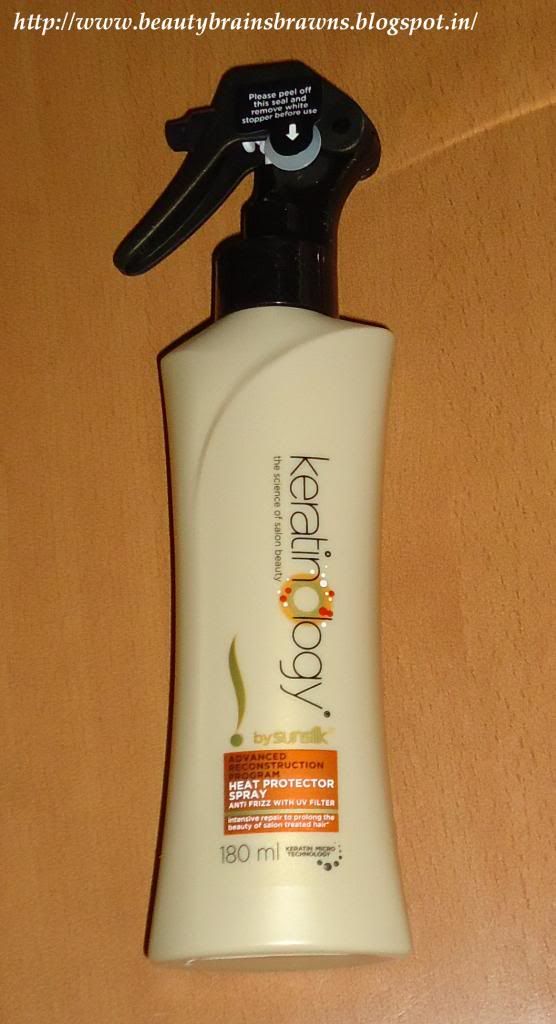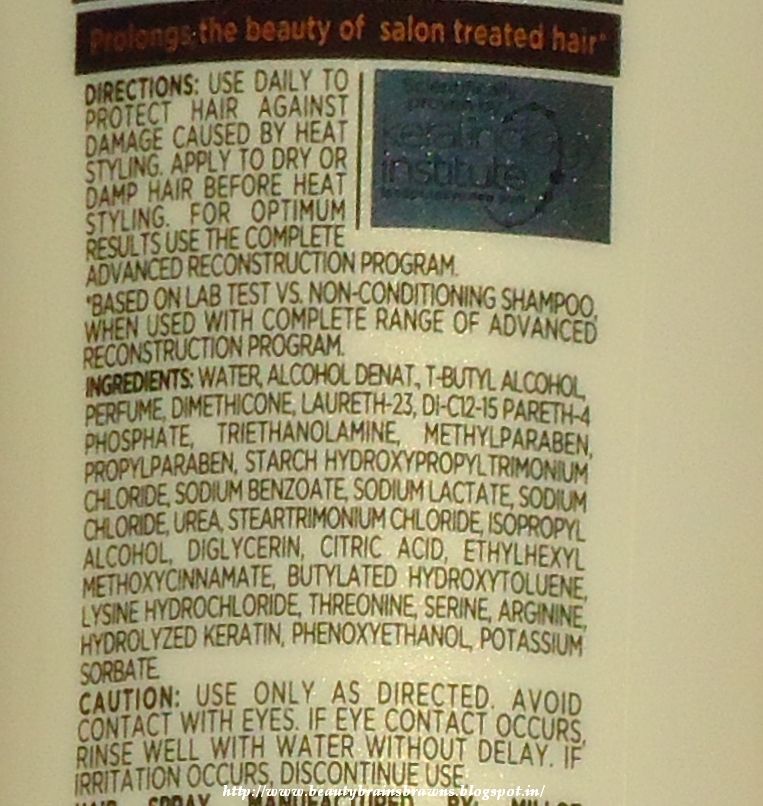 Keratinology by Sunsilk Advanced Reconstruction Program Heat Protector Spray features an advanced heat protection formula with UV filters to protect heat-styled hair for a frizz-free, professional look.

Salon looks can fade quickly. To sustain them, hair needs to be deeply nourished. Advanced formulations with Keratin Micro Technology reconstruct the hair surface, while micro nutrients penetrate into the hair cortex to deeply nourish the hair.

Directions for use: Use daily to protect against damage caused by heat styling. Apply to dry or damp hair before heat styling. For optimum results use the Complete Advanced Reconstruction Program.
MY EXPERIENCE:
This was my first experience with any heat styling hair protectant of any kind, as I got into heat styling only recently. Honest

ly,

I am glad I got myself the Sunsilk Keratinology Heat Protector Spray, as it is really amazing. It comes in a spray bottle packaging, with a tiny stopper, which is actually quite thoughtful on their part. I prefer to use it on slightly damp
(Shampooed + conditioned), loosely combed hair, though it works almost equally well on dry hair. Then I blow dry and straighten my hair using the flat iron. It gives a glossy sheen to hair, controls frizz to a great extent (though my microscopic eyes could still find some flyaways), protects from frying my hair and prolongs the staying power of the straightened hair (for me, it makes my hair feel smooth and straight even next day).
It has also got an amazing fragrance that lingers on the hair. I was using this everyday during Durga Puja to style my hair, and it definitely protected my hair from any heat damage. Except for the price I really don't have much complaints for this, but then products that work doesn't pinch pocket much, right!
Does

what it claims, protects hair from heat damage.

Gives a glossy sheen and controls frizz to a great extent.

Has got an amazing smell that stays.

The smooth, s

traight salon like hair effect

lasts till next day/next wash.
Works eq

ually well on dry or damp hair. But I prefer to use on damp hair.

The

sturdy

s

pray bottle packaging with the stopper makes it travel friendly.
A few flyaways that my eyes doesn't miss

to notice

.

The price is a bit high, but then the product really works hence I really don't mind.



VERDICT:
Sunsilk

's

got it bang on thi

s time

with th

eir

new Keratinology range. First their conditioner, and now the hair spray, both have really impressed me, or rather my dry hair, very well. If you are still looking for a heat protectant spray, then I do recommend

Sunsilk Keratinology Heat Protector Spray to you.