Howdy! :D Yes I am back with another review and today I am going to talk about another natural product brand "Rustic Art", and would review the Organic Sunscreen Lotion from their range.
I know you must have heard a lot about this brand, but in case you haven't here is a little info on them. :)
ABOUT:
Rustic Art is an enigmatic tale. From the time the organic & virgin base oils and essential oils are extracted till the time the final creation is complete, our every product has a story to tell. The fragrances are not just originating from the herbs and the flowers but also from the hands of the women who actually put all the ingredients together and make the ultimate creation.
We, at Rustic Art, promote environment-sensitive issues and everything that we do supports these causes:

• Supporting Skilled/Unskilled Labour
• No Machinery Used, Thus Energy Conservation
• Eco Friendly Techniques
• No Animal Testing
• No Animal Fats
• No Child Labour
It goes without saying that our products hold up to each of these concerns. Apart from these, our products are completely natural without a trace of chemicals, synthetic colours, artificial fragrances, alcohol, etc. So when you use a Rustic Art product, you know that it's entirely natural.
Moving on with the review of the Rustic Art Organic Sunscreen Lotion.
INGREDIENTS: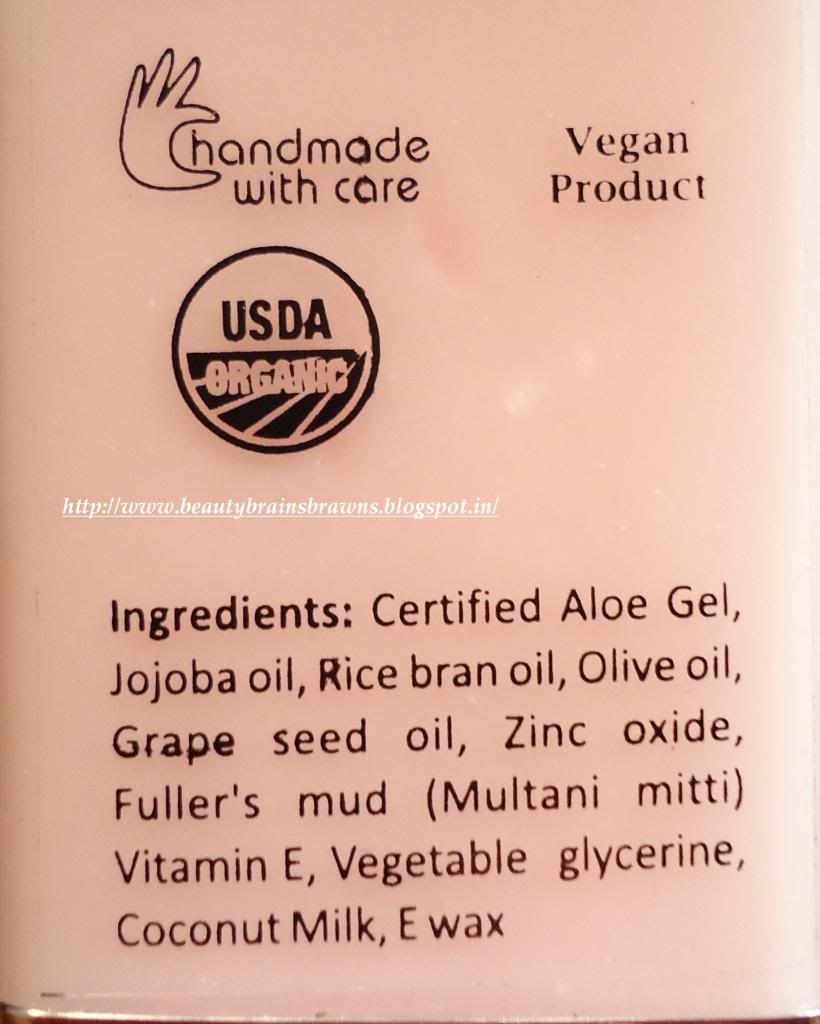 WHAT IT CL

AIMS:
Made of all organic and natural substances that protect the skin from sun damage, this lotion is an all-in-one skin care before you step out in the sun. It is gentle, safe and effective. SPF 20+
MY EXPERIENCE:
Rustic Art Organic Sunscreen Lotion comes in a pump dispenser packaging. The lotion is pale pink in color and medium thick in consistency. It has got a calamine lotion like smell, which is a bit strong initi

ally

, but fades away soon.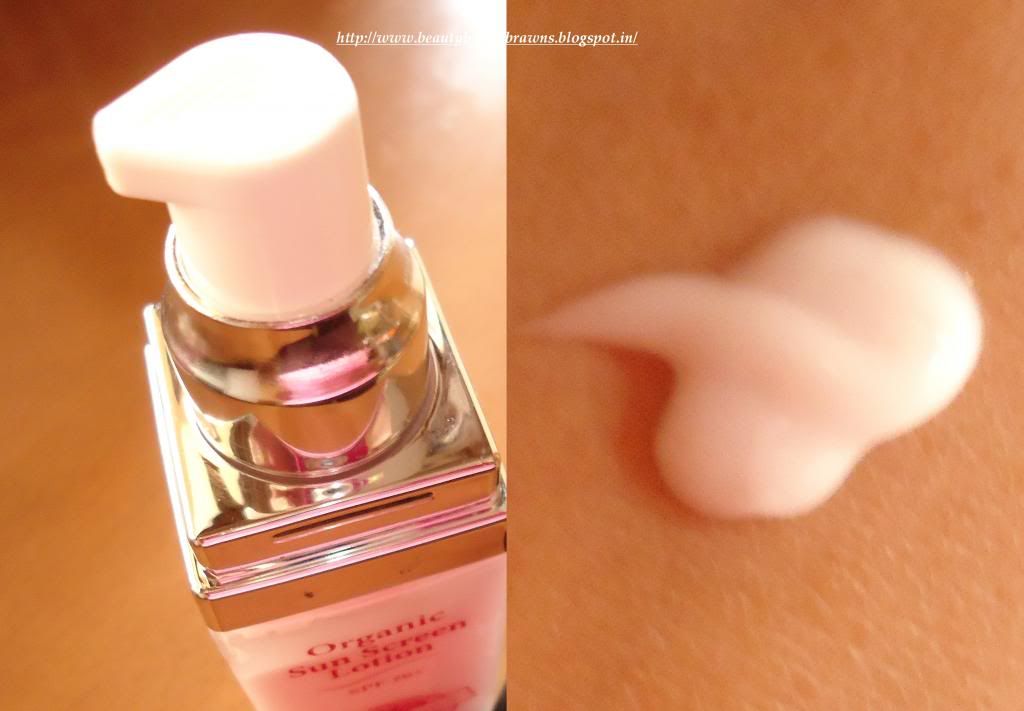 What I liked the most about this sunscreen lotion, is that it doesn't feel heavy, doesn't leave any whitish cast, doesn't make skin look ghostly white in flash photographs, like most other sunscreens tend to do. It gets absorb

ed

in skin quickly but needs a little extra blending. Doesn't feel oily, but my dry skin would have preferred a little more moisturisation. Ofcourse, you can layer up with your moisturiser, but I prefer to not to use too many products at a time. Now the bad, it is priced exorbitantly high and the SPF is too low for that purpose. But then, no matter how high SPF one uses, sunscreens require frequent and proper method of application, else any sunscreen would be useless. I don't tan easily *touchwood*, so can't vouch for how much it works on preventing tan. But, as we all use sunscreen to prevent skin damages from sun, this works pretty

well.
WHAT I LIKED:
Pale pink lotion, that spread easily and gets absorbed quickly with proper blending.

Doesn't feel heavy, nor does it leave any whitish cast like most sunscreens

tends to do.

Doesn't make you look

ghostly in flash photographs like other sunscreens.

Didn't cause any skin irritations.

Nice but strong smell, which fades away after a while.

The quantity would last long.

Chemical

free and no animal testing.
I love the sturdy yet

beautiful packaging.



WHAT I DIDN'T LIKE:
Price is really steep.

Low SPF.

But then, no matter how high SPF one uses, sunscreens require frequent an

d proper method of

application to be effective and prevent tanning.
A

vailable online only.
VERDICT:
If yo
u are into natural products and like to include organic products into your skincare regime, here is a good option to try out. Albeit, the price is high, but then the quantity provided would last really long. I hope they come out with a smaller version at a reduced rate, so that everyone can try this out before investing on the bigger one

. Let me know if you have tried this and whether you liked it or not!
RATINGS: 4 out of 5
**Product sent by PR for consideration but it doesn't influence my honest opinion! Read my disclaimer.