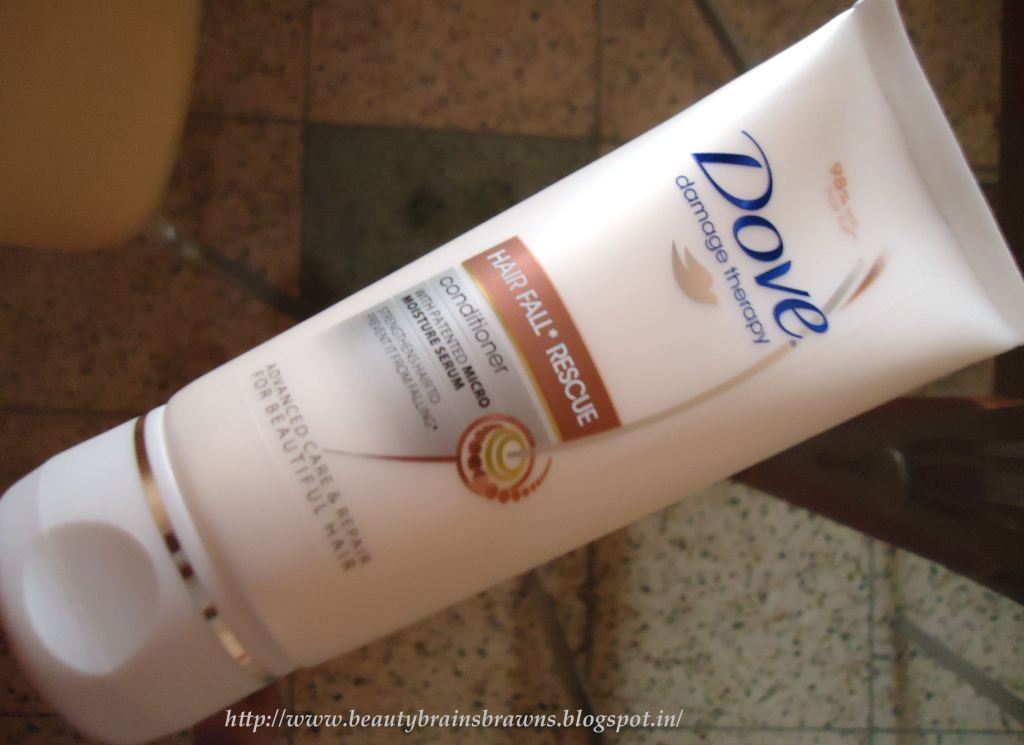 WHAT IT CLAIMS:
The Patented Micro Moisture Serum helps repair the weakened hair surface from root to tip. It smoothens lifted cuticles for perfect detangling.
Leaves hair strengthened and resistant to hair fall and breakage.
MY EXPERIENCE:

Dove Damage Therapy range is a new improved version of the previous range and was launched last year. The Hair Fall Rescue Conditioner

comes in a flip top cap tube packaging like all other Dove conditioners. It is

pearly

white cream in texture, with the same trademark smell of Dove conditioners. I require two dollops of it for my 2"-below-shoulder hair length and keep it on for 2-3 mins and rinse it off. Surprisingly, I got better results using it with shampoos from other ranges (Dove / non-Dove) than the

Dove Damage Therapy Hair Fall Rescue Shampoo.

It makes my hair really soft to touch, and shiny and manageable, when used with other shampoos. It helps in easy

detangling

of hair thus reducing hair breakage. Now, coming to the

hairfall

rescue claim, I don't see how it can work on

hairfall

problem when I don't apply it on my scalp and it never reaches the hair roots :-/

Compared to the Dove Nourishing Oil Care Daily Treatment Conditioner, I like the Oil care more than the Hair fall rescue one, because the Oil care one is better suited for my dry/frizzy hair, since it is more thick in consistency. But if you have thin hair, and thick conditioners weigh down your hair, then surely you can give this a try.
Makes hair really soft and manageable.

Help in easy detangling and hence, reduces hair breakage to an extent.

Doesn't weigh down my hair (unlike the shampoo from this range).

I like the smell of Dove conditioners ;).

Travel friendly tube packaging.

Pocket friendly.
I can't contemplate how it will work on hairfall when, being a conditioner, it shouldn't be applied on scalp.

Works better with other shampoos, than the one from this range, on my hair.

Doesn't control frizz completely. But you know by now it's beyond repair. :P
VERDICT:
I didn't find any such fault with the conditioner, (except for the claim). Works on my dry hair pretty nicely without weighing it down. Would recommend it to all with dry/damaged hair problems.
**Product sent by PR for consideration but it doesn't influence my honest opinion! Read my disclaimer.