Hey ya beauties! I am going to do a quick review of my new hairbrush that I got in my recent haul, which is Roots Anti-bacteria All purpose Hairbrush No. - 9613.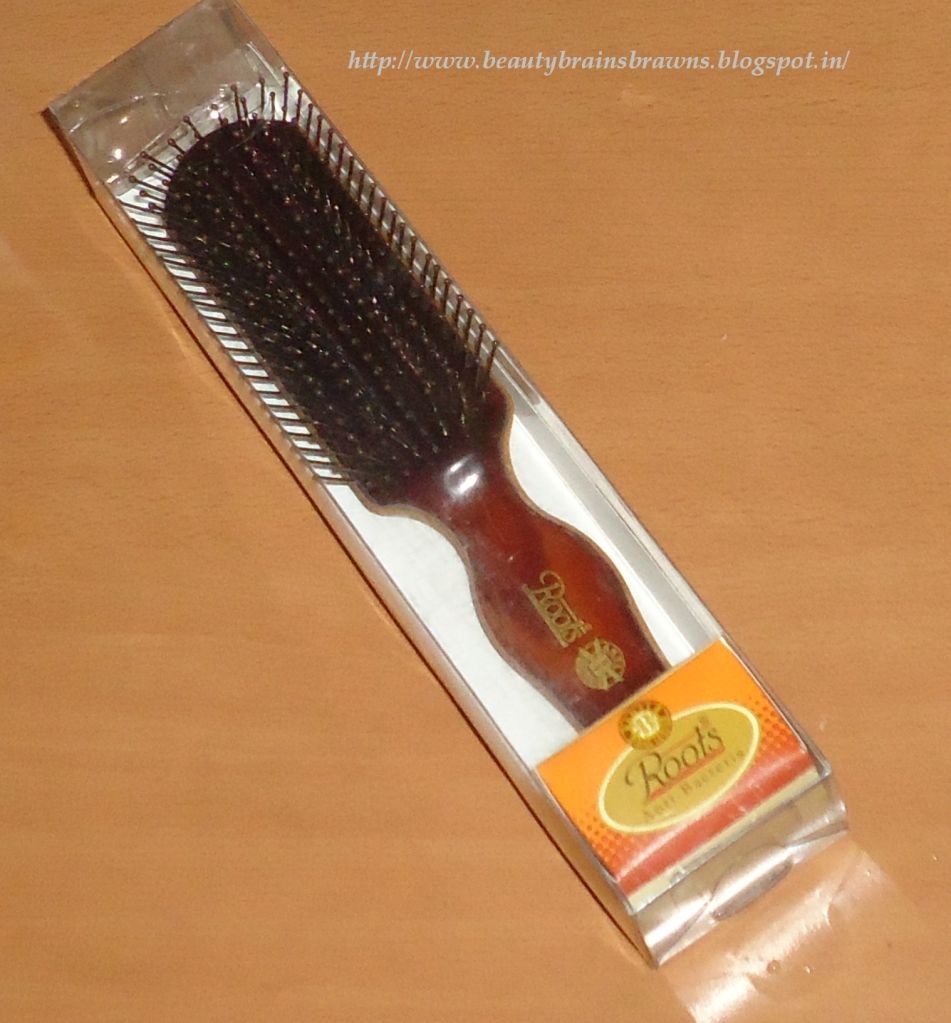 PRICE:
Rs. 195 (though the package shows Rs.145)
DIRECTIONS TO USE: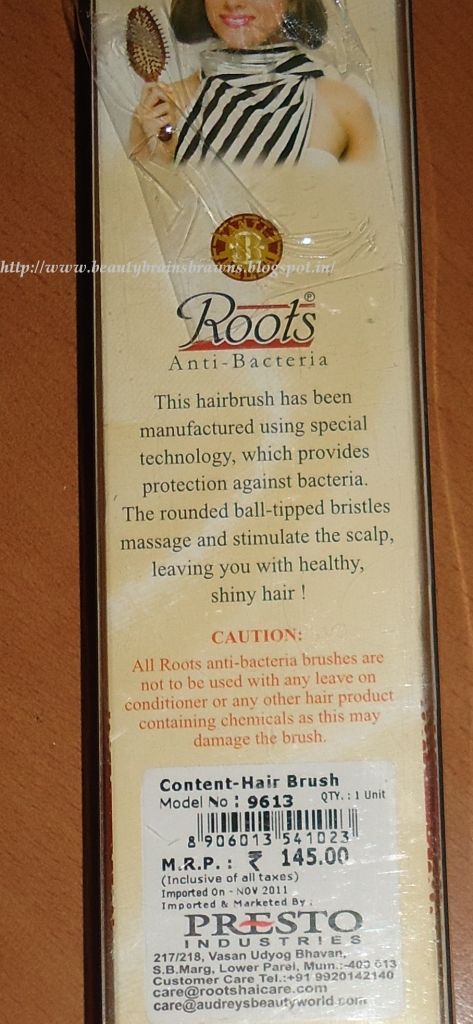 WHAT IT CLAIMS:
Best suited for thick hair. The body of the brush repels bacteria giving you utmost hygiene, hence preventing scalp and skin irritation. The rounded nylon bristles of the Roots brush massage the scalp and glide through hair with ease to offer snag free styling.
MY EXPERIENCE:
I wanted a non-cushioned hairbrush, as I hate cleaning cushioned hairbrushes which retains water and takes up lot of time to get dry. Roots Anti-bacteria All purpose Hairbrush fitted my bill for this purpose, and moreover it has this anti-bacteria bristles which caught my attention and I wanted to try it.
I really like this brush, as the bristles are of really good quality and doesn't break/bend under pressure. I have medium thick hair but this works perfectly for me. The tiny nylon balls are good for massaging and blood circulation, and it gives much better feeling than normal combs. Doesn't give any static hair, detangles hair easily and adds more shine and less frizz to hair. I liked it much better than my previous un-branded cushion brushes and normal combs.
Cleaning it off is also much easier, and the tangled hairs come off easily. Even when cleaned with water, it dries up pretty faster than cushioned brushes.
A non-cushioned, anti-bacterial brush

that provides better results than a normal comb.

Good quality bristles that helps in easy detangling of hair.

Cleaning it up doesn't take much time.

Economically priced.



Not sure about the availability, can be bought online though.

I am not sure how the Anti-bacteria thing worked, but I am happy its there. Only thing I hate is that it can't be used when some leave-on products are applied on hair. :(

Umm... since it is hard / non-cushioned, I bang my head once/twice while combing if I am not careful ;) :P.
VERDICT:
A good quality brush at an affordable price and it suits my needs. Would work better for thick hair types. Let me know if you have tried this one.