Hey ya ladies! As I was telling yesterday, how I got 3 lipsticks from same range of bright pink shade, so here is the review of one of the three. I have been yearning to try out the NYX Round lipsticks for so long, esp. the Tea Rose shade which is always OOS everywhere, but then thought of giving one another shade a try atleast, and got it in the Doll shade, which is the least bright out of the three lippies I got, nevertheless it's a really nice shade to have. Read on to know more.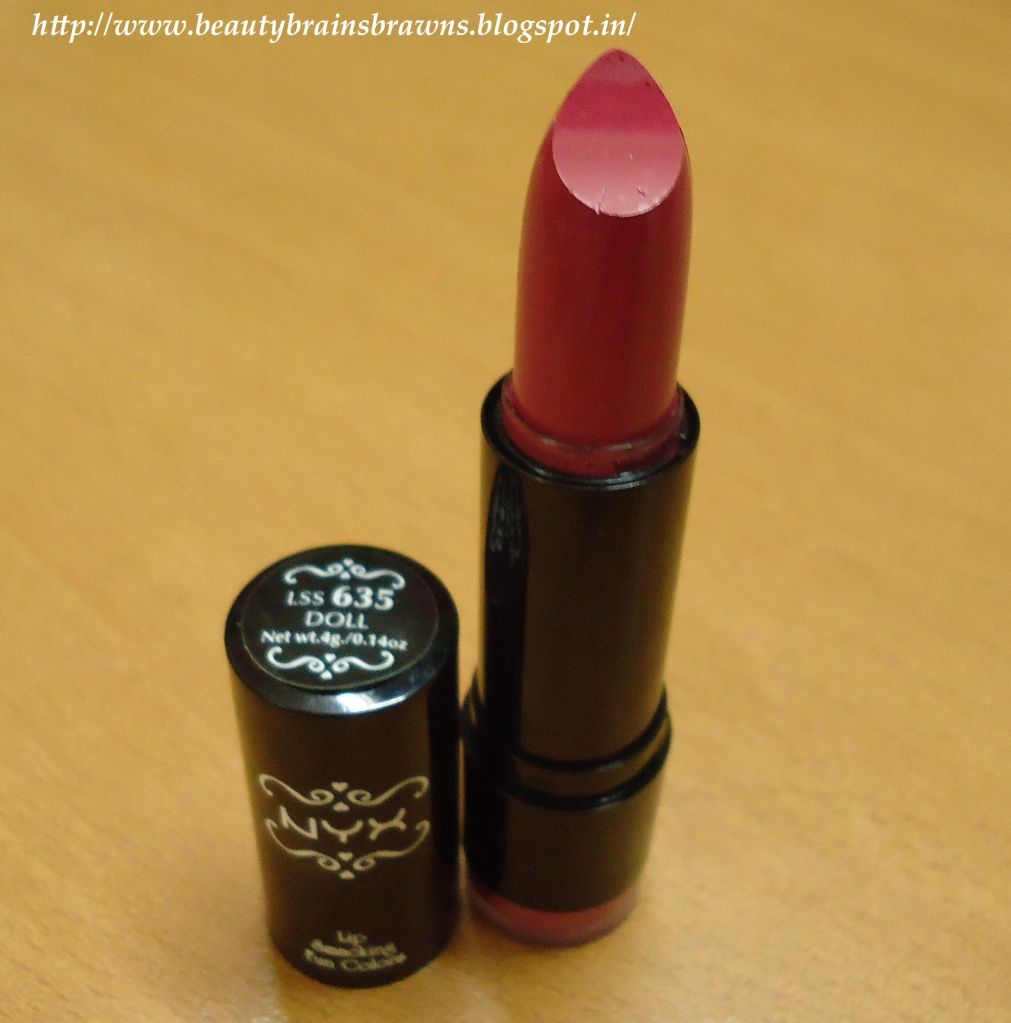 MY EXPERIENCE:
The Doll shade
is a reddish pink shade which looks quite sheer in the hand swatch but is actually quite brighter on lips in real. It makes my yellow undertones on face more prominent. It gives opaque color in 1 - 2 swipes. The texture is buttery and keep lips
moisturised
till it lasts, so it's better not to use a lip balm beneath it. It stays on my lips for more than 4 hours with little fading and endures light snacking. But gets removed easily with water, and it doesn't leave any tint when fades completely / or being wiped off. I have always read about the obnoxious smell in other reviews, and now I know why, it sucks really, and I can smell it on lips for initial few moments after applying. I find the packaging cute with the little shade indicator at the end. Thankfully I didn't face any melting issues with this one as I have heard from others.
Smooth buttery texture that glides on lips.

Very moisturising on lips however it doesn't feel heavy as such.

The shade Doll is very pretty reddish pink, though I wish it didn't look so bright on my yellow undertones.

Lasts more than 4 hours with only slight fading.

Has more than 144 mindboggling shades to choose from.

Lists all the ingredients.

NYX produces100% cruelty-free cosmetics.



The artificial smell is quite bothering.

The price in India is quite unjustified IMO.

Not easily available.
VERDICT:
Had the price been not so steep in India, I would have got hold of few more shades. For the actual price, it is a great lippie to have, so if you are fine with international shipping then you can buy them at much cheaper rates at
$2-$4
(excluding the shipping fare).