I like this time of the year. The weather is so soothing, clear blue skies, it's neither too hot nor too cold, and the festivals are around the corner, so more excitement, shopping, and having fun. And to look your best in this festive season you need the extra pampering for your skin, hair and health.
Today I would be reviewing another skincare product, which has become my favourite in this season, the Nivea Whitening Cell Repair and UV Protect Body Lotion.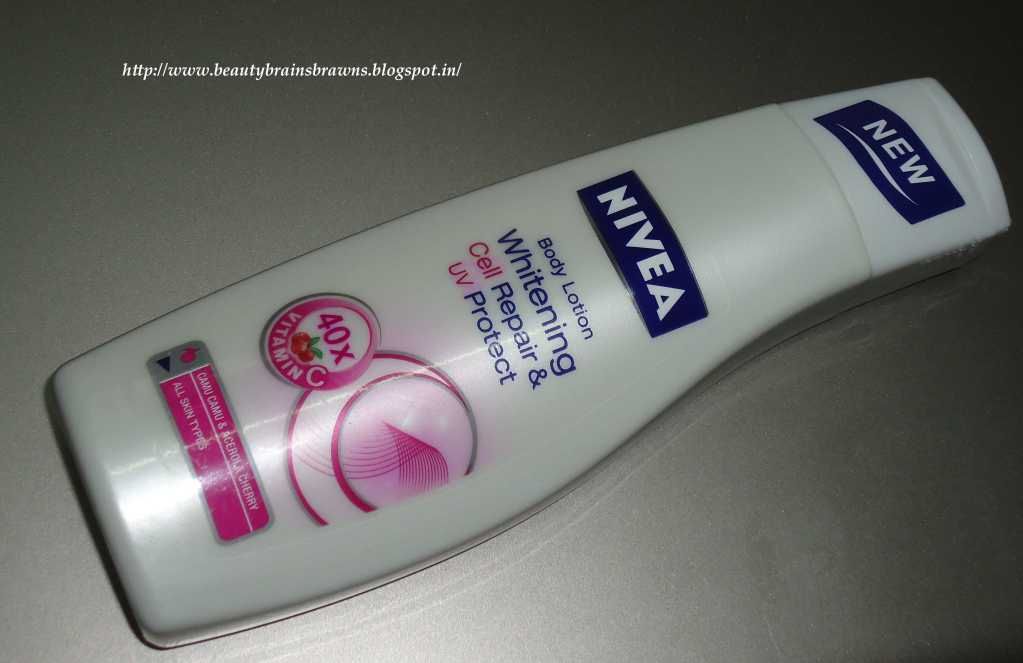 PRICE:
Rs.225
INGREDIENTS: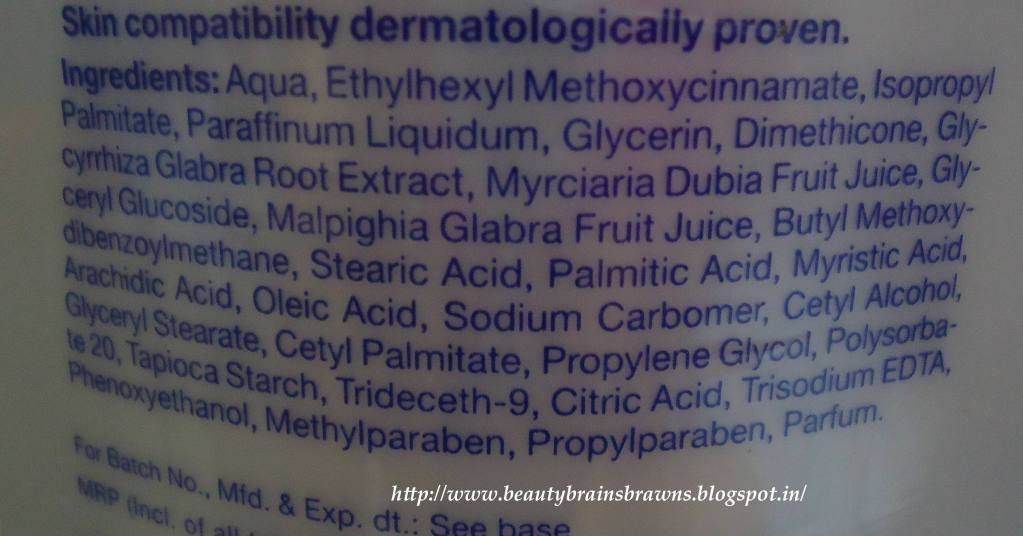 WHAT IT CLAIMS:
Specially developed for the needs of Asian skin, offers the power of nature with 40 times higher Vitamin C concentration that works from deep within and repairs skin layer by layer to recover skin's white tone (even with frequent sun exposure). The innovative fast absorbing formula with unique Super Fruit extracts – Acerola Cherry and Camu Camu – repairs accumulated damaged dull skin and boosts skin's natural barrier to fight sun induced skin damage for radiant skin. Its advanced UVA/UVB filters protect your skin from UV – rays, which induce pigmentation and causes dark and uneven skin.
Result: Your body skin is noticeably whiter and smoother so you look and feel your most beautiful.
MY EXPERIENCE:
Nivea Whitening Cell Repair and UV Protect Body Lotion comes in a sturdy white flip top cap bottle packaging. The texture of this lotion is light, body milk like, that gets absorbed in a jiffy leaving soft, smooth, hydrated skin. I love the fragrance of this lotion, it's cherry, it's warm, it's spicy, oh I don't know how to explain :P and it stays on skin for quite a while, but it's not OTT and won't bother your olfactory senses in case you don't like the smell.
It is non greasy and keeps my skin hydrated for really long, however I do use a bit extra amount for my dry body skin. I have been using it for past three weeks or so, but I haven't seen any dramatic whitening of skin and since I am at home mostly these days, I can't vouch for whether it helps in tanning problem, though it slightly evens out skintone and makes my dry, flaky skin look healthy. It is perfect for summer/monsoon season, though dry skin would require more intense moisturisation in winter. Price is economical, but comparatively higher and the quantity lower, than other available options. To sum it up,
WHAT I LIKED:
Non greasy, light formula that gets absorbed in the skin within minutes seconds of application.

Keeps skin soft, smooth and hydrated.

Love the beautiful smell and it stays on skin for a while.

M

akes my dry, flaky skin look healthy and evens out skintone to an extent.

Would suit all skin types in summer/monsoon.

It is economical and easily available.
WHAT I DIDN'T LIKE:
Dry skin might require intense moisturisation

in winters

than this is able to give.

Don't expect it to alter your skintone.

Comparatively pricey and lesser quantity than other body lotions available.



VERDICT:
The beautiful smell of this lotion has won my heart. Afterall, who doesn't want to smell nice. If you are looking for a non-greasy, hydrating body lotion then you might give this a try.
**Product sent by PR for consideration but it doesn't influence my honest opinion! Read my disclaimer.