Femina Miss India completes 50 glorious years


Femina Miss India, the country's most prestigious and credible pageant turns 50! Fifty golden successful years! The national platform that created actors and celebrities like Zeenat Aman, Juhi Chawla, Aishwariya Rai, Sushmita Sen, Diana Hayden Dia Mirza, Neha Dupia, Priyanka Chopra and Lara Dutta to name a few, who represent the perfect Woman, a woman who has the classic combination of beauty with brains.
To celebrate this remarkable journey and to unveil the new logo of this historic brand Femina Miss India joined hands with the most credible and oldest name in beauty-- Pond's. Taking this further, Femina Miss India has also partnered with the leading general entertainment channel, COLORS to take the viewers through this exhilarating journey. This showcase is on COLORS is an ode to the Indian woman and her journey to stardom.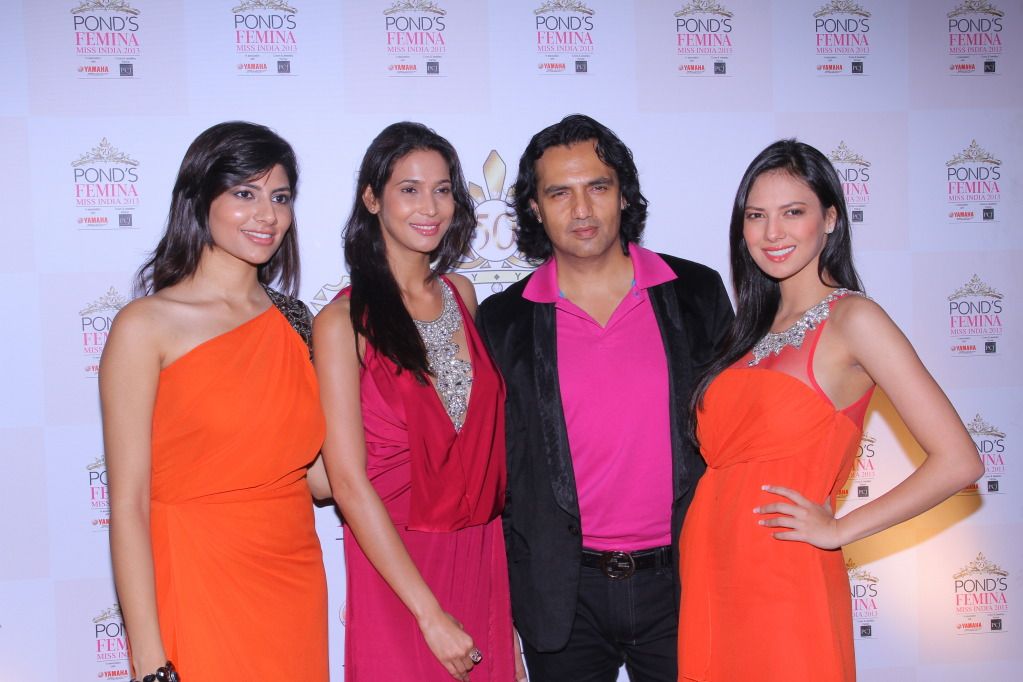 Ex-Femina Miss India's Vanya Mishra, Prachi Mishra, and Rochelle Maria Rao with Marc Robinson
Present at this glittering evening,(Vanya Mishra, Prachi Mishra & Rochelle Maria Rao)were the current and ex-Miss India's and the creme dela crème of society who came together to be a part of History being created in the beauty & fashion Industry.
To commemorate the occasion, Pond's Femina Miss India 2013 also released a melodious new sound track, for all the aspiring young Miss India's. Shibani Kashyap, singer and composer of the song, performed a LIVE rendition of this melodious track which portrayed the essence of real women, the women of today.
Marc Robinson, Ankita Shorey, Miss India International 2011 with Mehar Castilino India's first Miss India
Speaking on this glorious occasion Marc Robinson, Director Operations-Contestant and Creative- Femina Miss India said, "The Miss India platform is truly a legacy and is now celebrating the glorious journey of 50 years. Today, it is the most widely recognized and accepted medium for ushering new talent into the fashion, film and beauty industry. Every girl who makes it to the finals of the national pageant is positioned on an envious platform, second to none, and for her the sky is the limit. Every girl is a winner".
Pond's has had a long and successful stint in Beauty since its launch in 1947 and stands synonymous with beauty in India. They have passionately led the way in understanding women's skin and beauty needs for years. Together Pond's and Femina Miss India intends to provide a platform to many aspiring Indian women to realize their dreams and start living beauty instead of idolizing and admiring it from a distance.
Mr. Arun Srinivas, Vice President-Skincare, Hindustan Unilever Ltd. said, "Pond's, an iconic beauty brand, has been offering every Indian woman a reason to look and feel beautiful for many decades now. Femina Miss India, the renowned beauty pageant platform, celebrates Indian beauty delivering recognition to beautiful women and helping many others live their dreams through these inspirational role models".
Over the years Femina Miss India has evolved considerably with the changing face of Global beauty and fashion trends. With overwhelming participation of girls from all over India, Miss India is transitioning into a truly national exercise.
Adding to it, Arun quoted," Pond's is proud to associate with Femina Miss India on the occasion of their 50th anniversary and this heralds the coming together of the very best – most trusted beauty brand in the country and the country's premier beauty event".
Talking about the association, Mr. Raj Nayak, CEO, COLORS said, "We are excited to showcase Femina Miss India's 50 year milestone journey on COLORS as we see a perfect synergy between both brands and audiences. COLORS' is synonymous with content that is different and inspiring and therefore we are happy to welcome Femina Miss India in our bouquet of unique event offerings. As our core audience is the woman, we hope the progressive imagery resonates and inspires them."
PC Jewellers, the most trusted name in contemporary and traditional jewelery have joined hands with Ponds Femina Miss India 2013 as the Crown & Jewelry Partner. Commenting on the occasion," Balram Garg- MD, PC Jeweler said," We are elated to associate with Femina Miss India which has been instrumental in providing a platform that imparts confidence and enhances the personality of young indian women who have been making India proud at the international platform for last 50 years. With shared vision, PCJ, is really looking forward to this worthwhile association".
To ensure national representation at the pageant and to encourage participation of contestants from all across India in its 50th year, auditions and selections will be initiated from all regions across India, with 7 City Pageants being held in Pune, Goa, Indore, Kolkata, Bangalore, Chandigarh & Delhi which will ultimately culminate into the grand Finale in Mumbai. The winner of the city pageants will get a lifetime opportunity to fast track to the finals at the grand finale of Pond's Femina Miss India 2013.
Thank You to all Partners & Experts
Cosmetology & Aesthetic Grooming Expert

Enhance Aesthetic & Cosmetic Studio

Sinhgad technical Education Society, Pune

Payal Gidwani Tiwari/Manish Tiwari for Cosmic Fusion

Cosmetologist and Aesthetic Grooming Expert