Hola ladies! Today I would like to intoduce you to a new shopping destination for all your NYX products at great discount prices at Blanc to Noir - b2nshop.com. I got a wonderful chance to review the store and would like to share my experience with you all.
ABOUT:
Blanc to Noir - b2nshop.com is an exciting new destination for beauty and fashion dedicated to providing the best prices, selection, and overall experience you'll find online. To put it simply--we LOVE cosmetics and fashion accessories. We've created a unique store that offers our customers the ability to find what they want easily and quickly. we offer our customers a no-risk opportunity to try us out.
How We Work
Shop our wide selection of beauty products and fashion wears yourway--we've made it easy to shop by category, color, size, brand, or price. Detailed product descriptions--including construction materials, heel height, and customer reviews--help you make the right choice. Alternative views and innovative zoom technology allow you to practically touch the new items. And if you still need help, our Customer Service representatives will assist you 24 hours a day, 7 days a week.
Who we are
Blanc to Noir - b2nshop.com was built by

SK2P

Inc. in response to customers' desires to shop a destination dedicated to beauty and fashion accessories. Our site is built for these categories, and the passionate customers who shop them-- this is our focus. We are a unique store that offers our customers the ability to find what they want easily and we deliver it as quickly as possible-- reliably and securely. We take our shopping seriously--our staff is dedicated to providing the best possible experience, and our passion.
· Our buying team is the best in the industry and constantly seeks new and unique offerings--we add styles daily so check back often!
· Our editors touch each and every product to provide the best and most accurate information about each item.
· Our technology and design groups are continually evolving our site by adding features to make it easier to navigate and truly fun to shop.
· Our friendly and knowledgeable Customer Service team is available 24/7 and will gladly assist when you need help.
· Most important, though, we rely on our customers for your input to make Blanc to Noir - b2nshop.com great--reviews and fit recommendations from real people are invaluable in helping other customers make the right purchasing decision.
MY EXPERIENCE: When I first surfed the site b2nshop.com, I was excited to see that not only it houses the NYX products, but it sells authentic Sigma brushes too, alongside FaceFront Cosmetics, True Religion, Diesel, and Levis apparels as well as Bags and Accessories in the Women's section.
Under the NYX products category, there were many new products which I haven't seen yet at any other site here in India.
The site offers great discounts and occasional sales that goes upto 50%.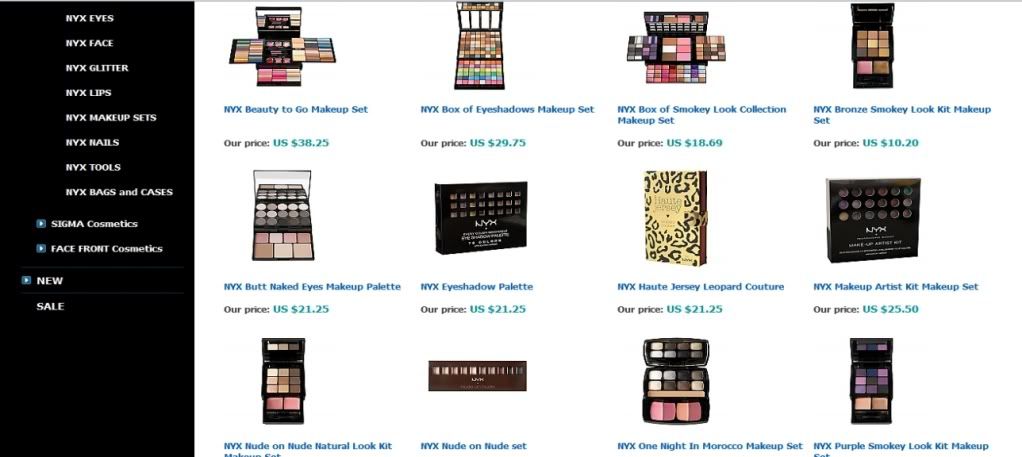 I chose the NYX eyeshadow palatte of 78 colors, priced at US $21.25 (Original price US $25.00).
Shipping costs vary with the weight of products. They accept credit cards such as Discover, Mastercard, Visa, Diners Club International, American Express, JCB.
After my order was processed they sent me a mail about the dispatch of products and I received it today, i.e. within 10 days from date of delivery. They sent the product through USPS first clas mail.
The product came in a cardboard box, seating snugly in the sea of foam cubes. I was really glad to see that the product arrived safely and none of the shadows were broken. Check out the pics below!
Overall, I really liked their huge inventory of NYX products, great discounts and quick and safe delivery. The international shipping costs are a bummer but much better than paying double/triple the price of the products from local Indian sites. I would like to suggest them to offer free international shipping once in a while.
Go check them out now. I hope you too have a great time shopping there.



** PR provided a

discount

coupon for the purchase ,

but it doesn't influence my honest opinion! Read my disclaimer.