Hola ladies! Today I am going to post some short reviews on the Sigma brushes that I have in my stash. Sigma is one of the most popular brand for makeup brushes all over the world.
ABOUT: "The Sigma Makeup brand is synonymous with quality and functionality. Our products are handmade and were developed to satisfy the highest quality standards.

We offer a complete line of professional brushes specifically designed to highlight eyes and face. Each brush was individually tested for performance, resistance, and durability.

The Sigma Makeup brushes are available in different kits to attend your specific needs. You can also acquire individual brushes and customize your own kit. A brush roll specifically designed to hold and maintain your Sigma Makeup brush collection is also available."
Coincidentally, all the three brushes I have are for face products application. Won two of them in some contest/giveaway and received the last one as a part of the Sigma affiliate program.
So let's check out the makeup brushes.
Sigma Hollywood Glamour Flat Top Retractable Kabuki - Purple:
This is a flat top brush, exactly a miniature version of F80 flat top kabuki one,
in a retract
able form. The packaging is pretty and light in weight and very travel friendly. It is made of
synthetic sigmax fibers for high definition application.
I use it to apply powder products mostly, face powder and powder blushes, though it is a bit big for applying blush. The brush is amazingly soft and it didn't shed a single hair till now, no matter how many times I cleaned it. But, since the bristles are so dense, it takes a long time to dry completely. It is priced at $25.00 (Buy it on Sale Price: $19.00)
Sigma Large Angled Contour - F40
:
This brush can be used to apply blushes, bronzer, highlighters and is ideal for contouring. The brush is made of natural bristles, which is milky white in color and is quite dense and really soft. It comes with a brushguard which helps in maintaining the shape of the brush.
The angled shape makes contouring and applying blush a ease. I tend to find it a little hard to work with for cream blushes as the bristles are really soft.
Also, it being made of natural bristles, it started shedding after the first wash. It is priced at $14.00. ( Buy it here and get 10% using Coupon Code APRIL2012)
Sigma Duo Fibre - F50:
This is a stippling brush, specially designed to generate an airbrushed finish when used to apply liquid foundation.
The bristles are a blend of synthetic(white) and natural(black). The bristles are densely packed and soft to touch, but the tips of the white bristles are a bit stiff, though that helps in the stippling(means creating tiny dots instead of regular blending strokes) process. This too
comes with a brushguard which helps in maintaining the shape of the brush.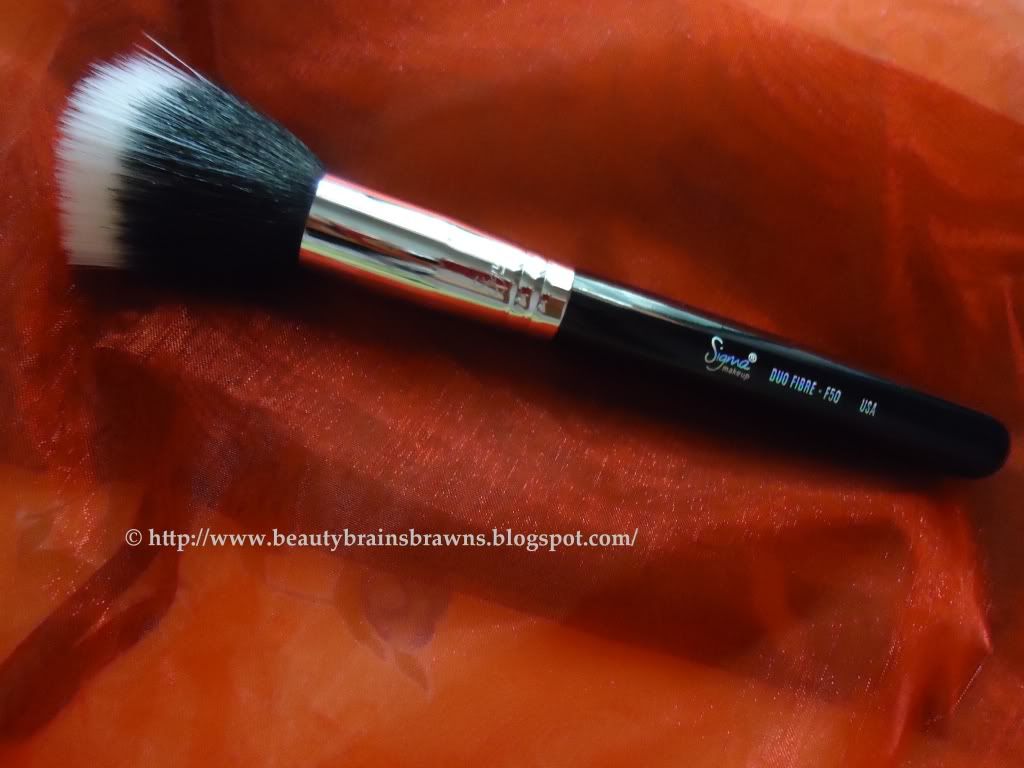 This is the best brush to apply cream blushes. Also, I liked the finish of the foundation with this one. Don't use it for long blending strokes as the bristles are not made for that and would leave streaks.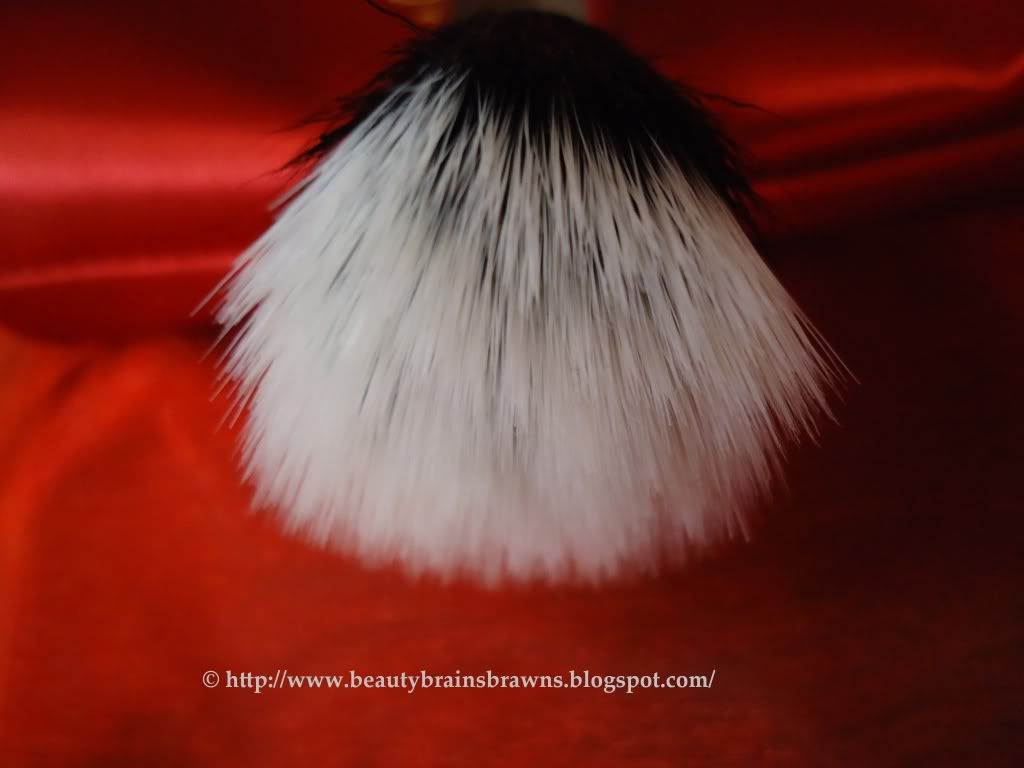 The natural black bristles sheds a bit while cleaning up but the synthetic white bristles doesn't budge. However, it is quite a pain to clean it completely and some stains still remain and takes up a lot of time to dry up.
It is priced at $18.00. ( Buy it here and get 10% using Coupon Code APRIL2012)
VERDICT: Overall, I really liked the quality of the brushes and good brushes definitely helps in easy application of makeup.
International shipping is quite costly. And it took 4-6 weeks time to deliver to my place.
You can check out all the Sigma brushes here.
RATINGS: 4 out of 5