Hola ladies! Recently I won a few giveaways *yay* :P :D (would share about the goodies in another post later on). So lovely Lancy was cohosting a giveaway with Aloe Veda on her blog a few weeks back and I won a little prize from that. They sent me the Aloe Veda Lip Butter in Mango and today I am posting my review on it.
PRICE: Rs.115
QUANTITY: 10g
SWATCH :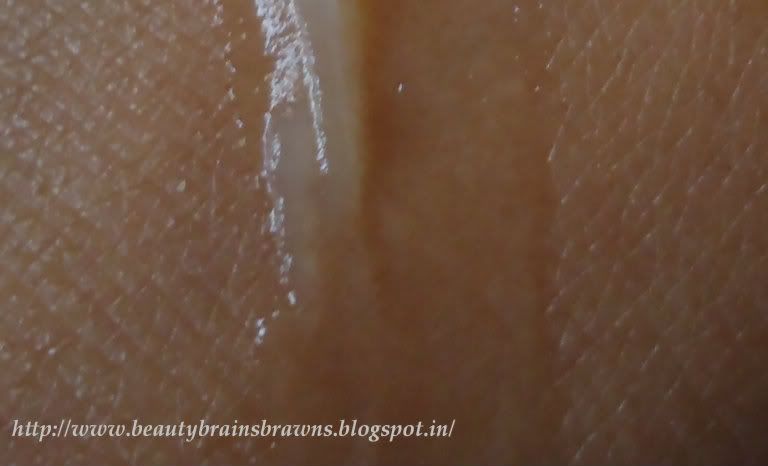 MY EXPERIENCE: This came in at the right time as I was on the lookout for a new lipbalm as my other lipbalms were either misplaced, or have been given/taken away, or not in the state to use on lips :P. And what's more, the lipbalm has a lovely Mango smell (though I am not a huge fan of mangoes but I really like it on my lips) and it is just perfect for the summers. The lip butter as the name suggests is soft and buttery that just melts on application. Claims to have sunscreen which is another plus point (though I can't vouch how effective it is on that part as my lips don't darken under sun). It is not suitable to wear under lipsticks as it turns quite oily when it melts down on lips. Gives temporary relief from chapped lips and requires a bit long time to get absorbed fully (unless you lick it off :P). As always with tub packaging, you have to dip your fingers in which I find a bit unhygienic. One thing that got me miffed was that when I opened the package for the first time, 1/3 rd of the product seemed as if scooped out (see the pic below). I mean why can't they fill up the whole tub with the product?
WHAT I LIKED:
Like the non-waxy, smooth, buttery texture.

Has got a slight Mango flavor and smell too.

Moisturises dry lips and keeps it hydrated for long.

Price is economical and comparable to other lip balms.

Only a little amount is required so the product would last long.
WHAT I DIDN'T LIKE:
The texture turns oily as it melts on lips and won't be suitable under lipsticks. Preferably works as a night lip balm.

Feels a bit heavy in the summers.

I am not fond of tub packaging.
VERDICT: It is a better option than a petroleum jelly. For the price, it does a good job. Would have preferred it in a tube packaging.
RATINGS: 3.75 out of 5