Hola ladies! Ever since my introduction to this beauty-blogosphere, I am learning about new products everyday. Like take the case of gel liners. Three years ago I didn't know what a gel liner looked like and now, I can name atleast 5 different brands of gel liners :P One of them, that doesn't bite your butt pocket is from the brand Maybelline, their Eyestudio Lasting Drama Gel Eyeliner in Blackest Black, which I never got around to try, as I would always look at my existing eyeliner stash and see too many black liners to finish up. But, I yearned to try atleast one gel liner. So when Maybelline launched a bunch of new products in India, the Lasting Drama Swirl Gel Liner being one of them, I knew I had to snag a piece! :P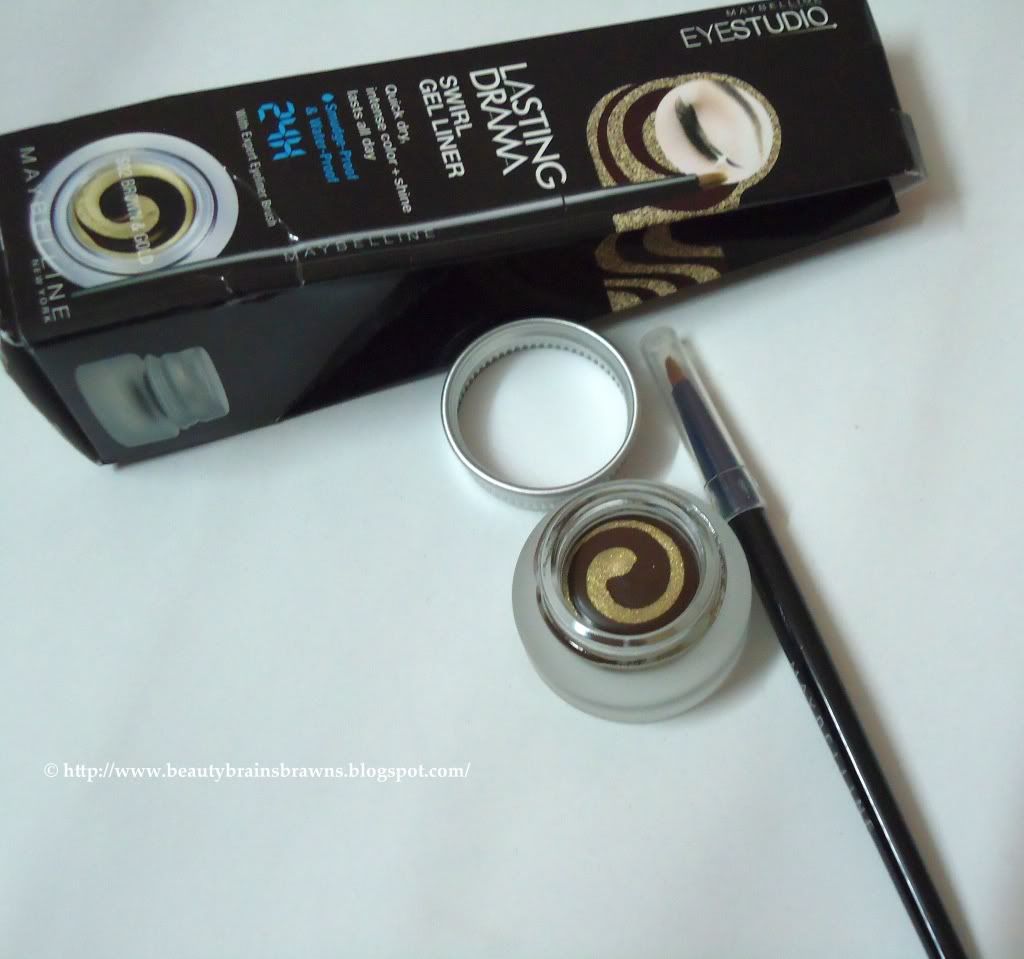 PRICE: Rs.425
QUANTITY: 3g
INGREDIENTS:

WHAT IT CLAIMS:
"Smudge-proof, creamy gel comes in two distinct shades of midnight black/ shimmery silver & bronze/ shimmery gold that can be used separately for either an intense line or dramatic shine. When mixed together, the two shades create a subtle shine that gives eyes a quiet elegance. Flat tipped eyeliner brush delivers precise and even strokes for flawless application."
SWATCH: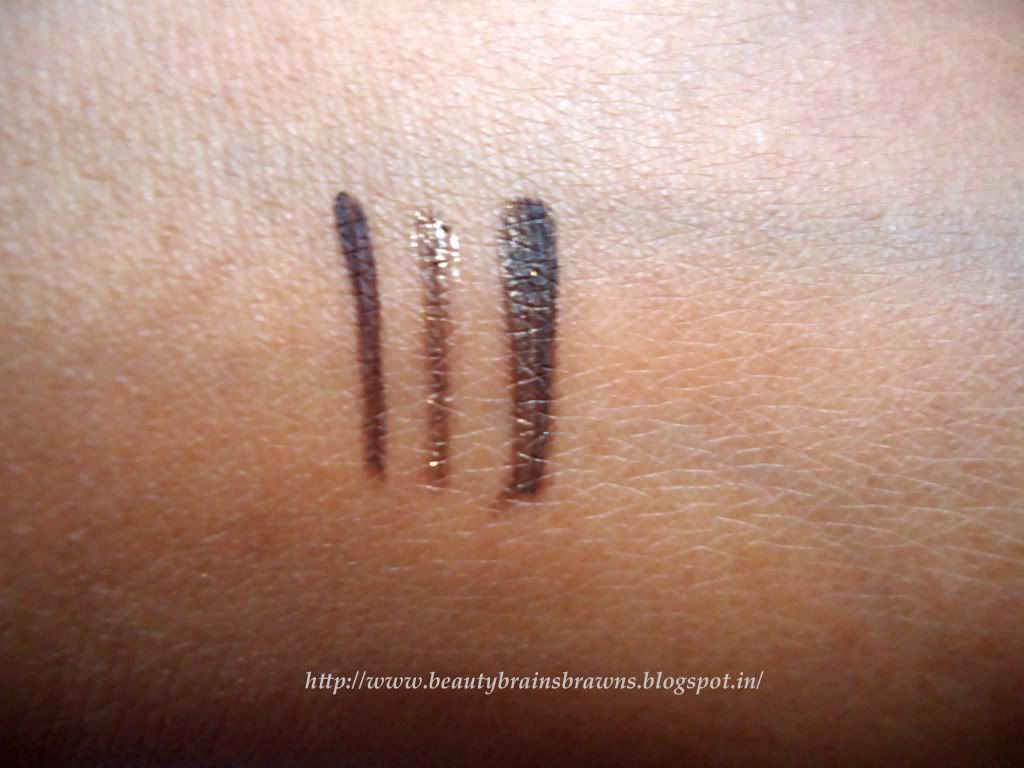 MY EXPERIENCE: The Maybelline Lasting Drama Swirl Gel Liner has a dark brown gel base with a strip of gold in swirl pattern. The gel liner comes with a liner brush which is really handy. The texture is really creamy and soft and glides easily on eyes. I thought applying it would be a complete hassle, but no, it applies real easy and fast. It settles and dries up quickly, and doesn't smudge or flake or fade for more than 8 hours, that's how long I tested it. Though the gold swirl strip looks highly cute in the tub, it isn't of much use for everyday looks, and the golden glitters in it are dispersed unevenly and requires multiple swipes to get an even line and somehow it doesn't look pretty on my dark rimmed lids. Also, it's better to moisturise your eye area properly prior to using this if you have dry skin, else it would profound the fine lines of your eyelids and might feel a bit stretchy. I have tried on both upper lashline and tightlined my lower lash line with the brown part, and it never irritated my eyes. But if you have really sensitive eyes, then I would advice not to use it for tightlining because of the gold glitters.
WHAT I LIKED:
The liner is of soft creamy texture and glides easily on the lids even on tightline it never tugs or cause discomfort.

This shade is a dark chocolate brown which I love.

Dries up real fast on the lids and doesn't budge at all for 8+ hours.

True to it's claim of smudgeproof and waterproof and long lasting. Requires a cream/oil based remover to wipe it off

completely

.

Comes in a chubby tub packaging (though the tin lid looks a bit cheap) with it's own applicator.

Compared to other gel liners in the market, it is easy on the pocket.
WHAT I DIDN'T LIKE:
The golden swirl though looks pretty in the tub, isn't much of use to me and doesn't look good on my eyes.

It accentuates the fine lines on the lids if the eye area isn't moisturised properly.

Gel liners have a probability of getting dried up in the tub, but I hope it doesn't occur any soon.
VERDICT: This has become my go to liner these days and I am really digging it. Apart from the golden strip I really like this one and wish Maybelline comes up with more shades in this gel liner range. If you would like to try a budget gel liner then I would recommend you this one.
RATINGS: 4 out of 5