Surfing through random shopping websites, at random hours and hoarding buying random products is becoming my favourite pastime. On one such spree, I got myself this Aloe Vera moisturiser from Khadi. Why? Because, a) I wanted a different moisturiser to try out and b) I haven't ever tried the Khadi brand. So after a couple of weeks of using it, I am here with my review.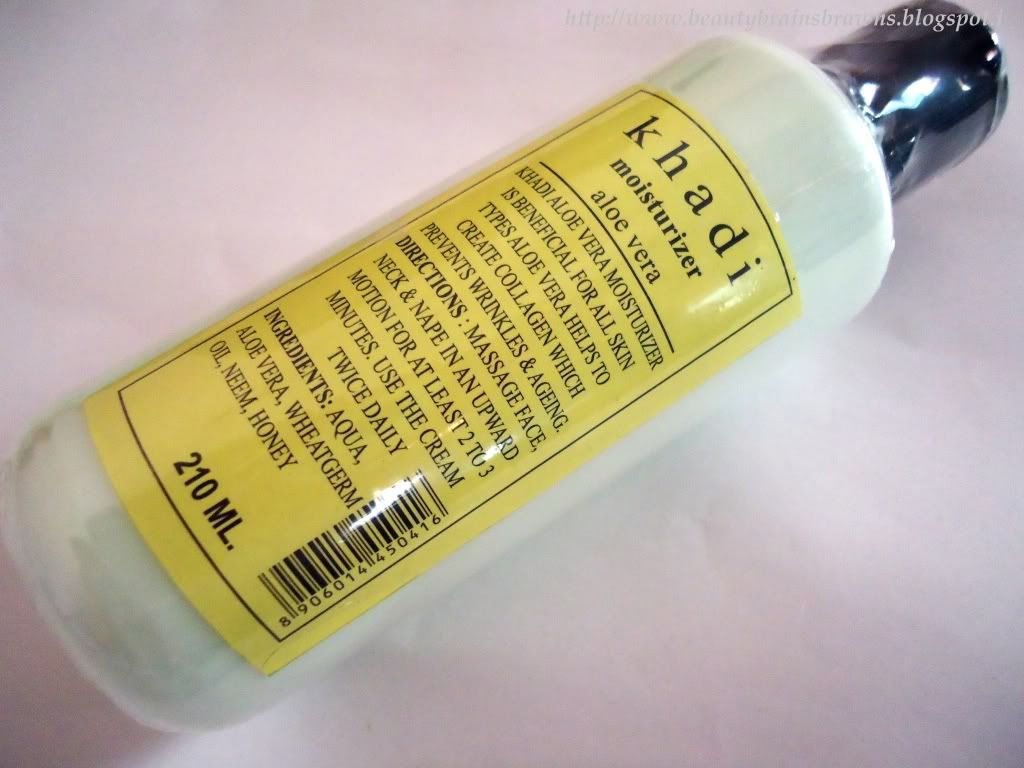 PRICE: Rs.100
QUANTITY: 210ml
WHAT IT CLAIMS : "Nourishing & Oil-free moisturiser which helps to replenish the lost skin moisture. Use after skin treatments. Can be used for all skin types."
MY EXPERIENCE: Khadi Aloe Vera is a pale green
moisturiser
, that is runny in consistency and spreads easily. However, it takes a little time to seep into skin completely. So I need to massage it longer. It feels a little heavy after the initial application. But when it gets absorbed fully, it leaves skin soft, smooth and well moisturised for long hours. I don't feel the need of re-application (can't say if the case would be same in winters or not, but I am hoping it would work all the same). It has got a sharp herbal smell that is pertained by the skin. It comes in a flip-top cap jar packaging. It's a bit bulky and I think it might spill under pressure, so not very travel friendly.
WHAT I LIKED:
The moisturiser is thin in consistency and spread easily so a little product is enough. Ofcourse you can layer more according to your needs.

Didn't cause any irritation. Rather gives a cool feeling on application which might be due to the Aloe Vera.

It has got a sharp herbal smell, which doesn't bother me and I kinda like it.

My skin remains moisturised almost the whole day.

Very affordable and economical for the quantity you get.

WHAT I DIDN'T LIKE:
Requires extra blending time to get totally absorbed.

Feels a bit heavy after application which I hate.

The no-nonsense packaging is too boring. :P

VERDICT: This is a pretty decent moisturiser which does it's work and I guess it would suit all skin types (might turn a bit oily for oily-skinned ladies in summer). For the price and the goodness of herbal ingredients, I would surely recommend you to try this.
RATINGS: 4 out of 5