Hey ya ladies! Yeah yeah, I am still alive. Wish my brain is too, which is just zapped out of ideas right now and that made me postpone my blogposts for so many days. Do you sometimes feel like you want to/should do something yet you don't get like doing it and put it off and sulk and then try to do it again and the cycle continues? Well I am in one of those phase. Chuck the rant! It's always the same :P
So yeah, I am here with a review on the Fair and Lovely Anti marks Spot Eraser Pen that I had been testing out for more than 4 weeks (with a few misses in between).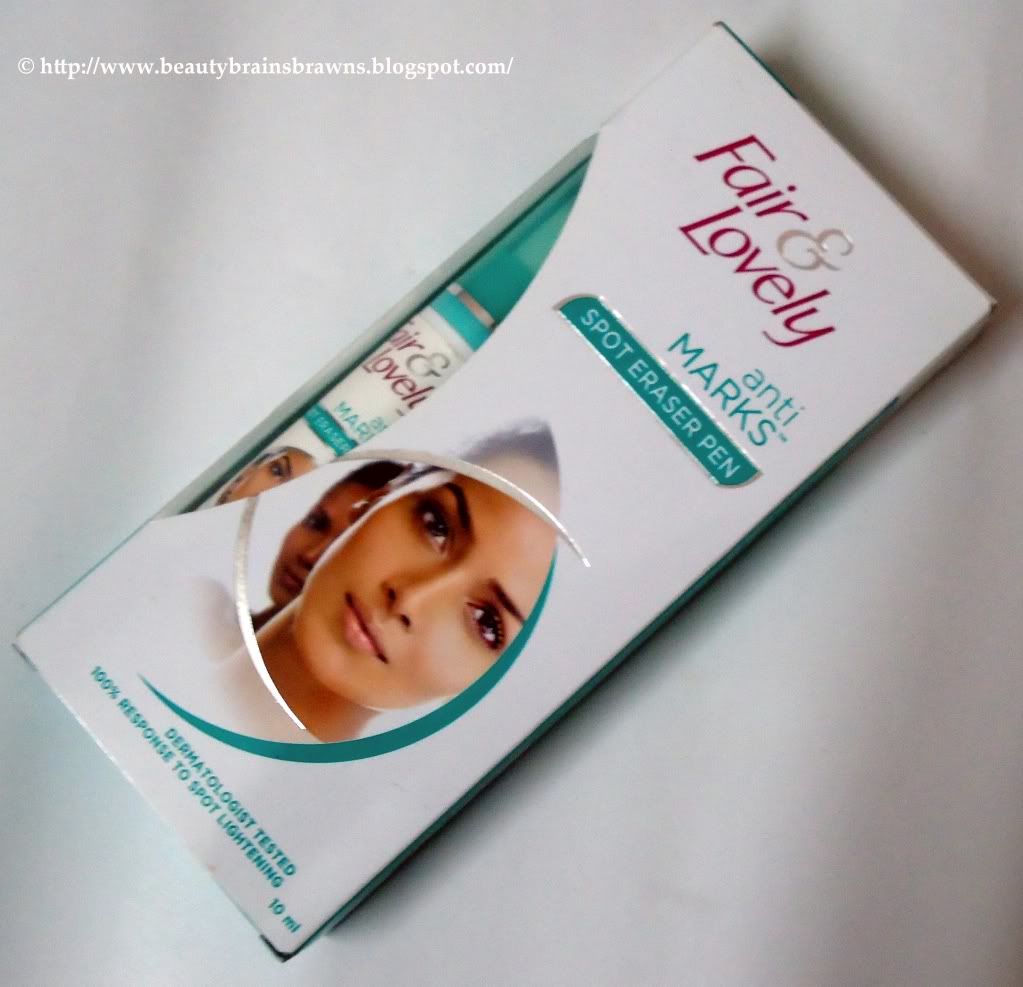 PRICE:129.00
WHAT IT CLAIMS:
Do dark spots keep reappearing around specific problem areas of your face? This is because over a period of time, skin around certain areas of your face gets damaged from deep inside causing spots again and again.
Presenting the new Fair & Lovely AntiMarks Spot Erazer Pen. With a best every formula of VitaAloe and Fruit Essentials, its unique pen tip releases the formula around problem areas so that it penetrates all 5 layers of skin. The formula's hard hitting action heals the damaged skin from deep inside to fade spots and prevent them from reappearing.
SWATCH: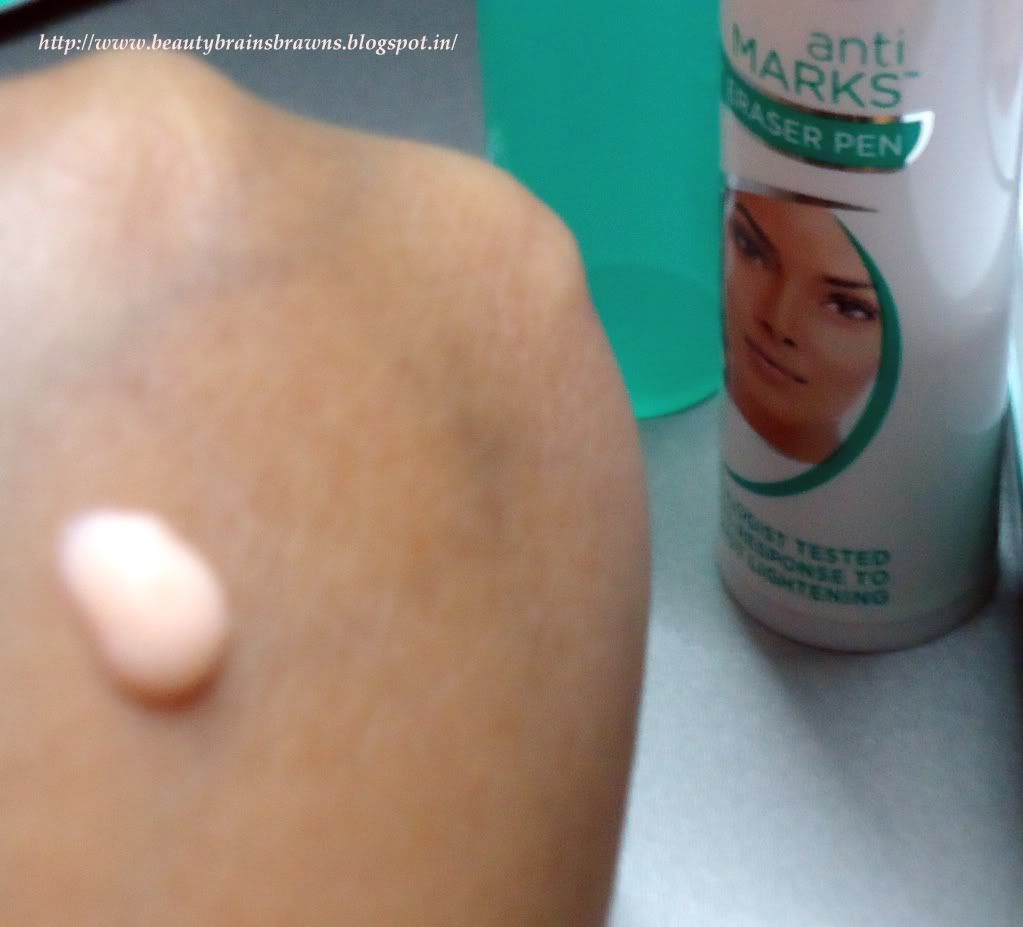 MY EXPERIENCE: I have this terrible knack of getting spots from all kind of bruises, bug infections, acnes/pimples, even mosquito bites, since my childhood. So a product like this definiely tempts me to get that spotless skin I dream of. I got this mainly to lighten some pimple marks on my face and one old infection mark on my arm. The cream comes in a sleek pen like amazing and you need to pump it to get the product out. The product is light yellow in color with medium consistency. A single tiny blob of product is enough for spot application on these. The cream is actually a bit heavy and oily just on application and takes some time to get absorbed after which the oiliness recedes. As I said, I tried this product for last 4 or more weeks, almost every night before going to bed. About the results, well it lightened the tiny brown old pimple marks. But neither did it work on the infection spot on my arm, nor did it prevent spots from new ances/pimples, that reared their head in this span of time. I dared not to apply it on my whole face in this humid summer as it feels really heavy, but did only spot treatment, and I am not much satisfied with the results. In any case, acne/pimple spots lightens on their own in 2-3months time without any special treatment, atleast in my case. So I don't see the point of having this product in my vanity.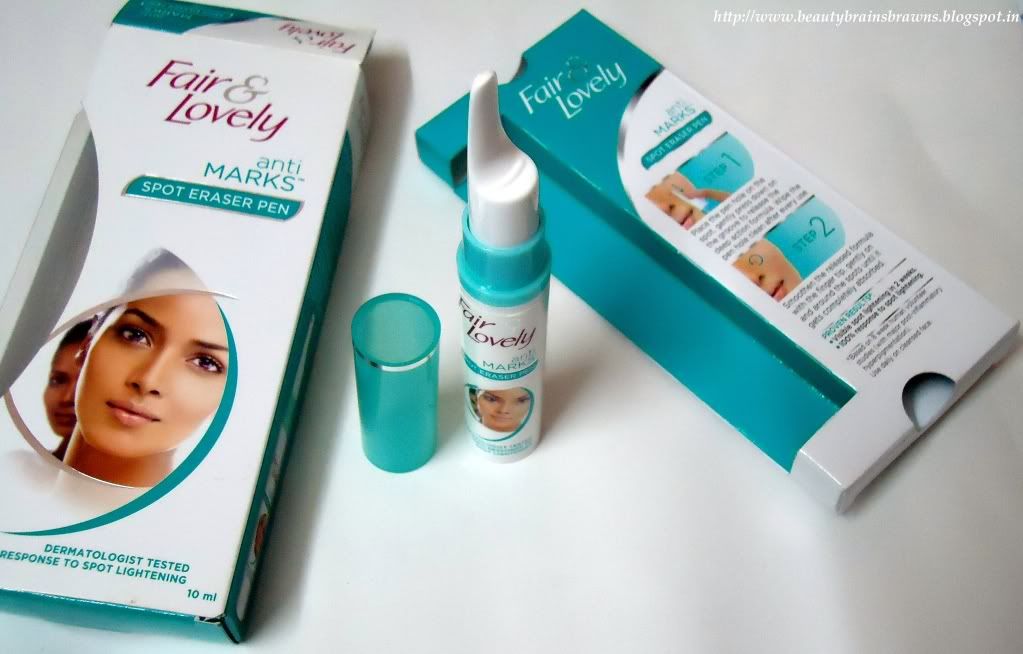 WHAT I LIKED:
It comes in a sleek pen packaging which is the most attractive part. :P

The cream though feels heavy on application gets fully absorbed in the skin.

It has a light scent that isn't really bothersome.

Lightened the old acne marks.

Didn't irritate or breakout my skin further than what it was.

The quantity would last long as only a little amount is required for spot application. Hence value for money.
WHAT I DIDN'T LIKE:
Failed to lighten new acne spots and infection marks and I kinda expected that it would do the trick, but no it didn't.

Gives a slight burning sensation if applied on broken skin.

I feel my acne/pimple marks get lightened on their own in 2-3 months time and if the product requires around 8 weeks to show results then I don't see the point of using it.
VERDICT:
It didn't work as I expected it to, so I won't give you any high hopes about it. But then everyone has different types of skin and problems with it and it might/might not work for you.
RATINGS: 3 out of 5

P.S: Just realised this is my 200th published post! *Yay* *Yay* ;)