Hello beauties! I was in search of a glossy/glittery black liner for past few weeks (sudden makeup cravings you see ;) ) even though I told you and myself, no more liners for me, few days ago :P and chanced upon this glitter eyeliner from Bourjois and thought of trying it out! I was eyeing another felt tip liner from this brand but decided on this one between the two!

WHAT IT CLAIMS:
"FIZZ GLITTER LINER SPARKLE UNDER THOSE SPOTLIGHTS! Ultra resistant eyeliner in black and vibrant green. With Added glitter for a look which will make you sparkle from under the spotlights at a party. Easy to apply and comfortable to wear. For irresistible party doe-eyes."
MY EXPERIENCE: When I first received the eyeliner I was a little disappointed to see, it is so small in size and almost weightless, and wondered whether it contains anything inside at all (it was completely sealed by the way :P ). Anyhoo, I tried and swatched it immediately and loved the glossy, sparkly effect so much. I have tested it a number of times while doing some EOTDs and also gone out wearing it for more than 5 hours and it doesn't smudge or budge or fade. It does prettify and jazz up your eye makeup. But, I don't know why after some 2-3 hours I get a kind of stretchy, itchy feeling (might be coz of my dry lids or the sparkles) on my upper eyelids. It doesn't irritate much but it does make me a little uncomfortable.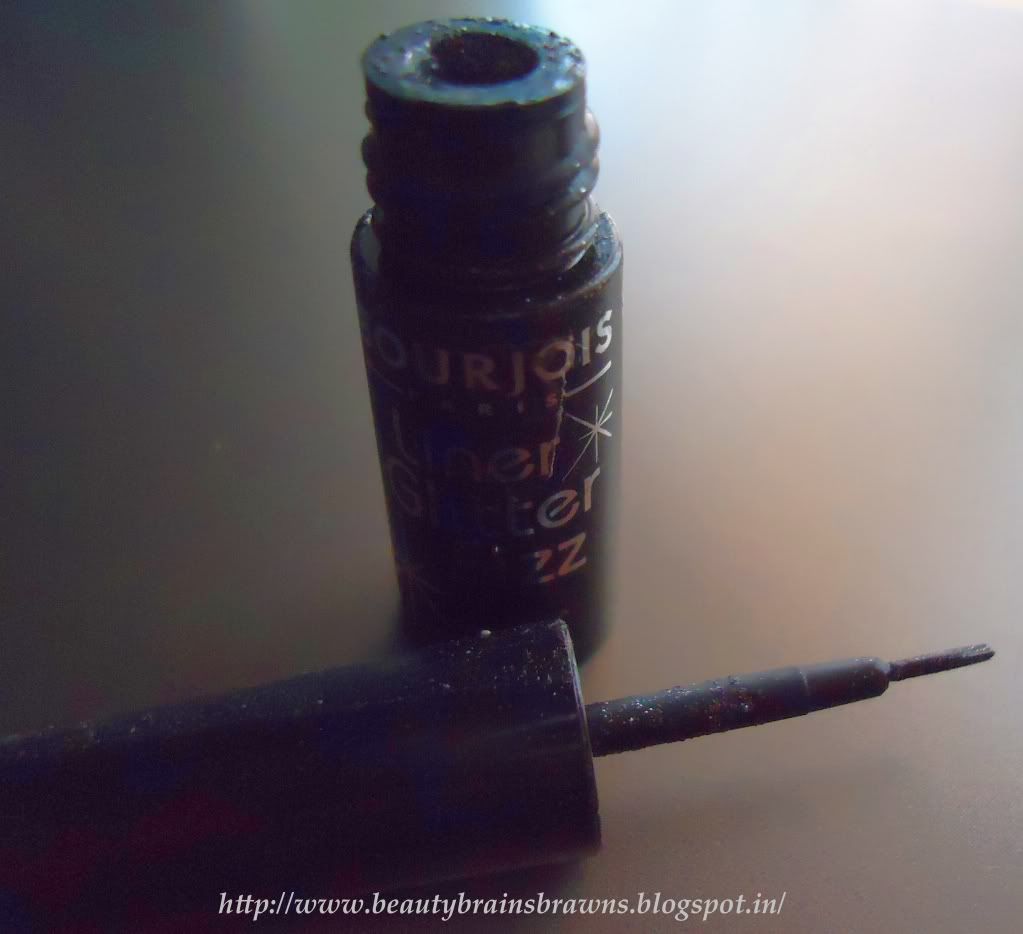 The brush is soft and of ok quality, but I need to dip it twice to complete one stroke of line. However, the liner is pretty pigmented and one swipe is enough (unless you want to thicken the line) and the consistency is nice too. It is not waterproof though sadly, being such a pricey liner! To sum it up,
WHAT I LIKED:
Gives a glossy, glittery finish that I wished for.

Pigmentation is really great and one whole swipe is enough.

The brush gives precise lines and the long handle(?) is comfortable to use. Good for creating winged liners.

Doesn't smudge and the sparkles don't fallout or move around out of their place.

Comes in 3 shades and each of them look lovely (as checked in swatches available online ;) ).
WHAT I DIDN'T LIKE:
Not waterproof! Seriously at this price it is the biggest con for me!

Feels a bit itchy on my lids after 2-3 hours!

The quantity is too less for the price!
VERDICT:
Coming from a reputed brand I expected a bit more out of the product. I like the finish but due to the cons I won't recommend it much. More bad news, I couldn't find it in my stash for last two days and think have lost it somewhere :(. Need to check rigorously through my stash! I found it! LOL! :P Do let me know if you have tried/liked this liner!
RATINGS: 3.75 out of 5