Hey ya ladies (and 'gentle'men too if you are reading this ;) )! I am popping in again! :P As you might already know, that I have dry-combination, sensitive skin and it just can't tolerate any heavy creams/lotions (forget about layering SPF creams and all :( ), even on a slight humid day. So you can relate, that moisturisers and my skin become sworn enemies during this hot, humid season. But I can't totally skip nourishing my skin, else it would turn scaly/flaky/lifeless. Now that the monsoon has arrived, I need a light moisturiser that beats the humidity and helps my skin not to turn patchy.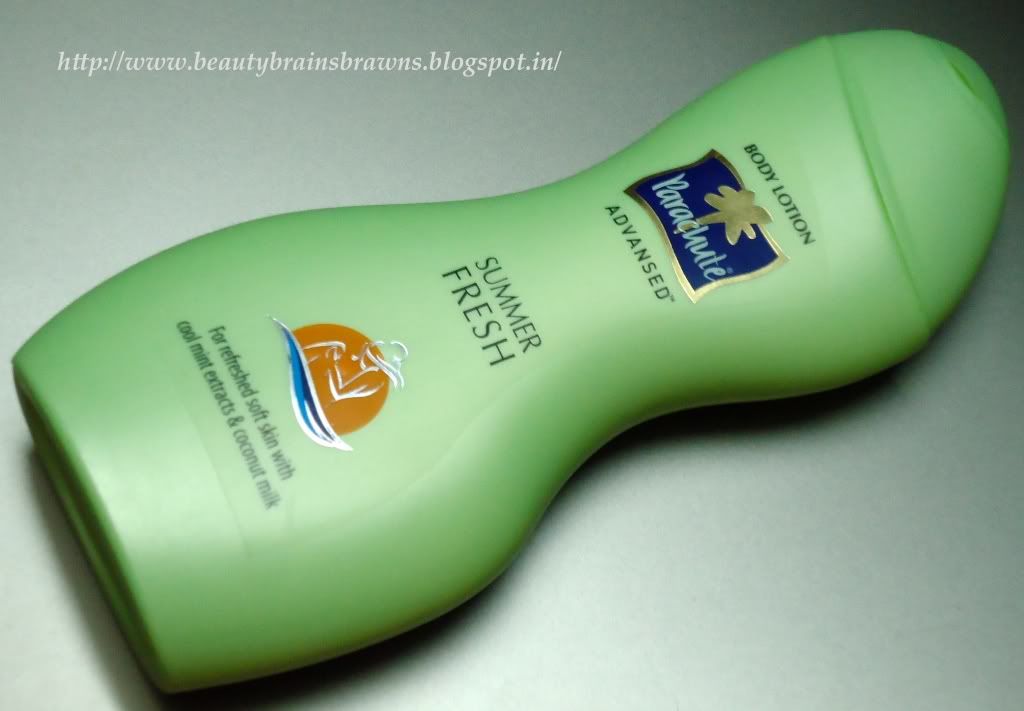 Parachute Advansed Summer Fresh Body Lotion came in the right time, as it is just appropriate for the hot summer and humid monsoon time.Why so? Read on!
PRICE: Rs. 125
QUANTITY:
250 ml (Available in smaller sizes too, 20ml* for Rs. 5 (*Introductory offer) and 100 ml for Rs. 65 )
INGREDIENTS:
MY EXPERIENCE: The Summer fresh lotion comes in the similar curvy bottle as the previous Parachute Advansed Body Lotion. The consistency and moisturising property of the Summer Fresh variant lies in between the Gentle Care and the Intense Care variants. But I would prefer this one over the other two because of a number of reasons.
First, it keeps my skin moisturised throughout the day without any re-application, and doesn't give any sticky or sweaty feeling, unlike other lotions. Second, the mint+coconut smell is so refreshing and it is retained by the skin for quite some time. The mint extracts leaves a slight cool feeling on skin, (can be felt more on face than other body parts). Third, the price is so affordable and so economical for the quantity! And even when I tried it a few times on face, it didn't break me out in this humid weather *yay* :D.
WHAT I LIKED:
True to it's name it keeps the skin fresh and moisturised throughout the whole day!

The light texture helps it to get quickly absorbed by skin.

Never irritates, or feels sticky / sweaty! Rather provides a nice, cool feeling because of the mint extracts!

Amazing sweet refreshing smell, which I absolutely love.

Comes in an effective packaging with a flip top cap.

Price is so economical.

Has SPF (but how much is it? Not mentioned!)
WHAT I DIDN'T LIKE:
This is not a con for me. But I think extremely dry, flaky skin might require heavier moisturisation than this one provides!

As the name suggest it is meant for summer or hot, humid weather. There are other variants supposed to be used in winters!
VERDICT: If you run away from body lotions due to humidity in this summer, then this Parachute Advansed Summer Fresh Body Lotion could be your answer. It is light and perfect for the humid weather and so easy on the pocket that you won't mind trying it out once.

RATINGS: 4.5 out of 5
**Product sent by PR for consideration but it doesn't influence my honest opinion! Read my disclaimer.