Hey ladies! Today I would review another product from the Garnier Pure Active range, which is the Pimple Relief Roll On! As I have already mentioned on my blog, I had a bad bout of adult acne a year and a half ago, and I had to resort to medication! Now it is under control, yet I get a visit from the pimple aunt once or twice every month esp. during PMSing. I hate that painful zit and ugly scar it leaves behind. So this product came at a good time, when I was expecting another visit from the pimple aunt.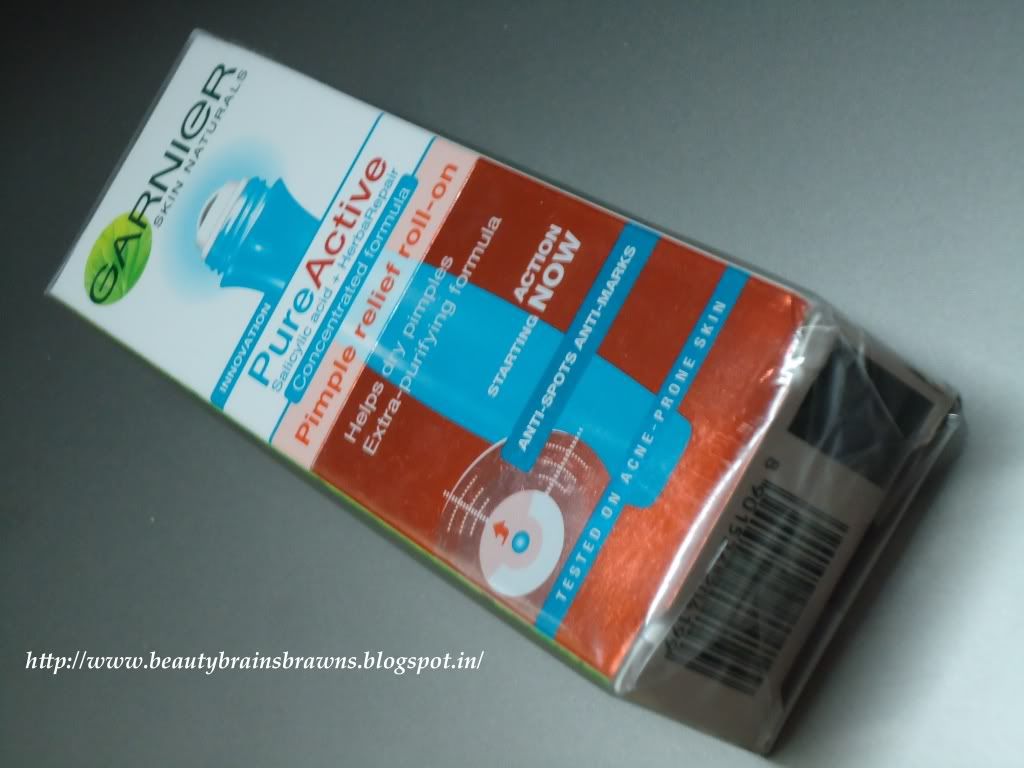 QUANTITY: 10ml

WHAT IT CLAIMS:

"New Garnier Pimple relief Roll-on's revolutionary metal roller-ball helps immediately relieve your pimples . Handy to carry around. It is even easier to use and is pleasant to apply under any circumstance.


Its transparent formula is ultra-purifying and non-greasy. Concentrated in alcohol and salicylic acid, it accelerates your pimples drying out. It is enriched with HerbaRepair, which helps accelerate clearing of pimple marks. "



MY EXPERIENCE: The product comes in blue pen like packaging with a roller ball attached on the mouth that dispenses the liquid. It has got a slight alcoholic smell (the kind you get in chemistry labs). I would tell my experience with it on three occurrences of Ms.Pimple, I had in the last month. First time when I saw a pimple was budding, I applied the roll-on on and around that area. I used it twice everyday for three days, and saw that the pain got reduced by second day, and it dried out and turned really small on the third day. I stopped applying it, but was left with the tiny mark of the pimple. The second time, I did as above and continued applying it for few more days and the result was same and also the pimple mark faded quickly this time. I got really happy about this product as it really works. Now, onto the third time, the pimple/acne got aggravated as I have accidentally touched/scratched it, though I kept on using the Roll-on. It stung a bit too on the broken skin and took over 5 days to reduce the acne size and left a prominent mark. This time I got a little bit disheartened!
However, 2 out of 3 times it worked well for me and so I would give it a thumbs up for it's effectiveness on budding pimples/acnes. A few things to note, I always rolled the ball on the affected area and keep it like that (no blending/touching with fingers), also I clean up the ball on a clean cloth after each application for hygienic purpose.
WHAT I LIKED:
It did work on the new budding pimple/acnes.

It reduces the pain and size of the pimples by next day.

It helps in fading of the pimple mark in few days if applied regularly from the start.

Doesn't irritate or caused any reaction on my skin.

Since it is effective, I find the price justifiable.

The packaging serves the purpose well.
WHAT I DIDN'T LIKE:
It might not work on an aggravated case of acne.

It doesn't stop from pimple to occur (though it doesn't claim to).

It doesn't reduce existing acne spots.
VERDICT:
I actually liked it a lot and would stock it up! If you too are suffering from occasional acne/pimple, you must give this a try once! However, if you get a bad bout of acne/pimples, then this might not work as efficiently!
RATINGS: 4 out of 5
**Product sent by PR for consideration but it doesn't influence my honest opinion! Read my disclaimer.