Hey ya ladies! As we all know, apart from the Cleansing-Toning-Moisturising our skin, Scrubbing/Exfoliating frequently is also important to remove dead cells and rejuvenate skin. But, how frequent should we scrub/exfoliate our skin? Generally, it is recommended to go for exfoliation two-three times per week. Also based on skin types, oily skin needs more exfoliation than dry skin. However, frequent exfoliation can lead up to dryness of skin, and make skin rough (I had some experience of that :( ) and it is utmost necessary to moisturise properly after exfoliation. Few things to keep in mind, exfoliation shouldn't be done with a heavy hand or a lot of pressure that your skin gets irritated/reddened and it shouldn't be too light either that it doesn't work effectively at all. Since facial skin is more delicate, we should take care what kind of scrub we use on it.
Today, I am going to review the Blackheads Uprooting Scrub from Garnier Pure Active range.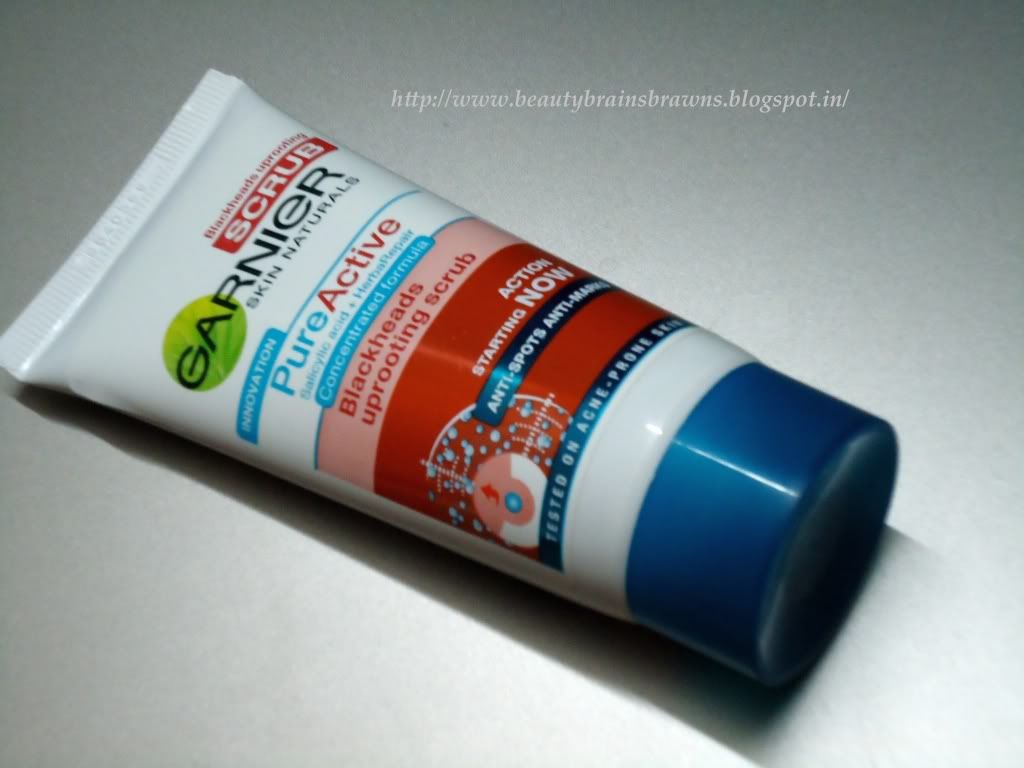 QUANTITY: 50g
WHAT IT CLAIMS: " Garnier PureActive is a new generation of concentrated formulae tested on acne-prone skin.
Is PureActive Blackheads Uprooting scrub made for me?
Yes, if your skin is prone to blackheads and you wish to remove them while cleansing to prevent the re-appearance and clear imperfection marks.
It's secret?
An unprecedented association in the formula which fights imperfections and their marks.
Concentrated Salicylic acid is one of the most efficient exfoliant actives.
The proven power of plants - HerbaRepair is a natural active extracted from Vaccinium myrtillus with exceptional regenerating and skin-repairing properties.*
*tested in vitro "
MY EXPERIENCE: Firstly, I must let you know that I don't have much blackheads problem. Rather, I have whiteheads problem. Garnier Pure Active Blackheads Uprooting Scrub comes in tube packaging. The scrub itself is thick gel like in texture, with blue granules/scrub particles, which aren't harsh on skin at all. It creates a creamy foam when rubbed on skin. After washing it off, it leaves a tingling, cool feeling on the skin because of the mint extracts, which I really love.
Apart from this, it does nothing. No apparent uprooting of whiteheads, neither any spot lightening is observed. Had it lathered like a facewash, I would have still given it more points. But it doesn't, and I don't see any further use out of it.
WHAT I LIKED:
Comes in a tube packaging.

The scrub particles are really gentle on skin.

Leaves a minty cool sensation on skin, which I love, esp. during this hot weather.

Didn't irritate my sensitive skin.

Only a little amount is required in every use. So one tube would last a while.

Price is pocket friendly.
WHAT I DIDN'T LIKE:
Doesn't uproot any whiteheads/blackheads on my skin.

Didn't help in spot lightening as per the claims.

I would have liked it more, if it lathered like a facewash and be a 2-in-1 product.
VERDICT:
If you leave out the product claims, then this is a nice gentle scrub for all skin types (even sensitive skin). And if you like minty fragrance then you are sure going to love it. Else, this is not the product for you!
RATINGS: 3.5 out of 5
**Product sent by PR for consideration but it doesn't influence my honest opinion! Read my disclaimer.