Hi Beauties,
I am a lot into hair care products as I always want my hair to look good and manageable.
Healthy hair is a sign of good health. So, I keep trying hair products and I recently tried out the Hair Fall control Conditioner from Pantene as my hair were falling out quite a lot maybe due to the heat of the summer sun! #KilledDueToHeat
Packaging→
The packaging is quite simple; it is a white shiny opaque bottle with stickers of the product description and the logo. It has a flip clap placed at the bottom.
Product Description→
Reduces Hair Fall Due to Breakage → Hair becomes hollow over time as it gets damaged. This weakens its internal structure and becomes prone to breakage.
Pro-V formula →
●

Strengthens the inside of hair at the structural level
●

Penetrates and helps fill hollow parts of hair
●

Lasting strength for reduced hair fall due to breakage
●

Rich conditioning formula for enhanced nourishment and protection
Directions to use → After shampoo massage onto wet hair gently. Rinse off thoroughly.

Ingredients→ Water, Bis-Aminopropyl Dimethicone, Stearyl Alcohol, Behentrimonium Methosulfate, Cetyl Alcohol, Fragrance, Benzyl Alcohol, Dicetyldimonium Chloride, Disodium EDTA, Panthenol, Panthenyl Ethyl Ether, Linalool, Butyphenyl Methypropional ,Hexyl Cinnamal, Benzyl Benzonate, Benzyl Salicylate, Methylchloroisothiazolinone, Methylisothiazolinone.
Price→ Rupees 120 for 175ml.
My Take on Pantene Pro-V Hair Fall Control Conditioner→
This conditioner is like the usual conditioners, creamy and neither too thick nor too runny in consistency. The cap of this product is bottom so it makes it easy for us to take out the product. The scent it mild and I am not bothered with it that much.
I just love this conditioner as it really fixed my split ends a bit and makes my hair so silky, soft, manageable and controls frizz a bit too .I have used it for a while now and I think it is a great conditioner and you must try it out at least. My Hair breakage has reduced at the same time too. The length and volume have really increased due to the less hair fall problem I am facing now :P ……..My hair has strengthen a lot too.
This conditioner has got no dye, no Parabens, but the only problem with it is that it irritates my face when I apply it but after I wash it the irritation goes away.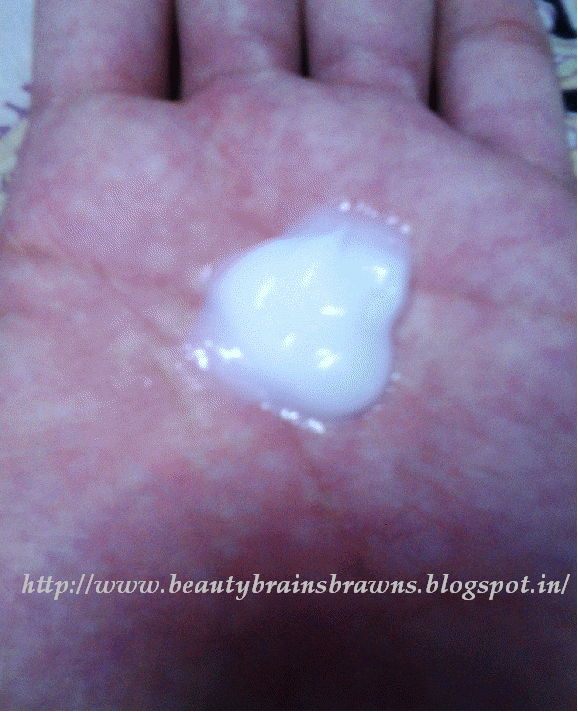 Pros of Pantene Pro-V Hair Fall Control Conditioner ➜
✔

Makes hair silky, soft .
✔

Gives a shine to the hair.
✔

Makes hair manageable to an extent.
✔

My hair breakage has reduced too.
✔

Product lives up to its claim
✔

Repaired a bit of my split ends.
Cons of Pantene Pro-V Hair Fall Control Conditioner ➜
✖

Does not control oil on the scalp.
✖

Irritates the face when it touches it, when applied.
Final Verdict➜
Overall it is not a bad product and I quite like it. It is really affordable and it is definitely worth a try :)
Will I repurchase Pantene Pro-V Hair Fall Control Conditioner?
Maybe if I don't find a better conditioner than this.

Rating—
✦ Quality: 3.75/5
✦Performance: 3/5
✦Packaging: 2.75/5
✦Fragrance: 3/5
✦Price: 4.5/5
Hoping to see you fabulous girls soon in my next review……Muahh….. :-*
P.S: The hand in the picture is not mine but my son's. I used his palms to hold the conditioner and myself took the pictures :P