Soap or a moisturiser? That's what popped in my mind when I got to try the Iraya Coconut Soap. If you haven't heard of the brand, then let me introduce it to you first!
Iraya the true secret of beauty lies in energizing the soul. Iraya in Sanskrit means from the earth was born out of Ayurveda. The essence of Ayurveda is rejuvenation.It is a holistic healing system which provides health & vitality. Iraya belive that path to beauty lies in energizing the soul. It is this philosophy that finds its way in every Iraya product.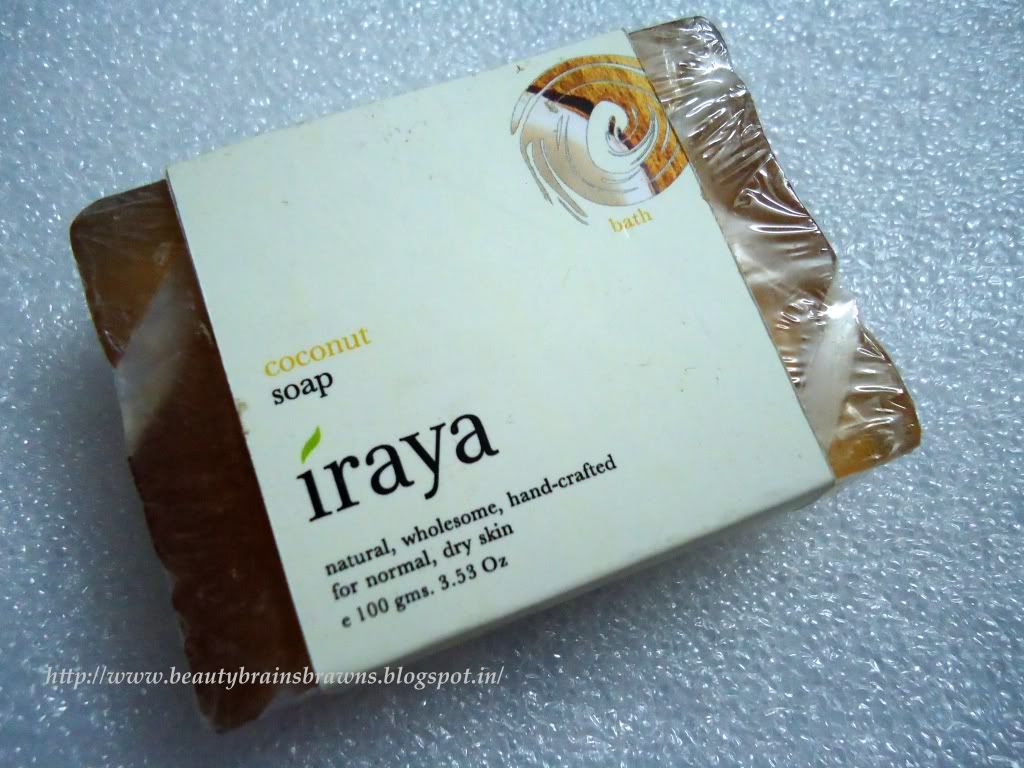 Iraya soaps are natural and handcrafted. Plus they don't do animal testing! Today I would be reviewing the Coconut Soap from the Iraya range.
QUANTITY: 100g
WHAT IT CLAIMS: "A gentle soap bar, made with nourishing coconut oil, rice bran oil and skin-softening coconut butter.Moisturises the skin leaving the wonderful tropical aroma of fresh coconuts."
MY EXPERIENCE: When I first tried it out, it seemed as a normal glycerine soap with stripes of semi-solid coconut/palm oil bits across it. It has got a delicous smell of coconut butter with an underlying hint of lemon(tangy) fragrance (I don't know where it comes from since lemon or anything citrusy is not mentioned in the ingredients...might be the palm oil then?!).The smell is quite relaxing and leaves a subtle scent on the skin too, though it doesn't stay for too long. Now comes the interesting part. It doesn't leave my skin dry or stretchy, rather it have a moisturising effect and I can happily leave out the moisturiser in the summer. And it lathers well too, being a moisturising soap, and gives a cleansed feeling on skin. Only that it melts easily, as is the case with most of the handmade soaps.

WHAT I LIKED:
Smells deliciously of coconut butter but it's not OTT. If you don't like coconut then this is not for you.

Lathers decently and cleanses skin properly.

It never dried out my skin. Rather my skin feels moisturised and I can skip the body lotions. Best for summers! However, I won't suggest to skip the lotion in winters!

Leaves a hint of scent on the skin.

Does as per it's claims.

Handmade from natural ingredients and doesn't test on animals!
WHAT I DIDN'T LIKE:
Pricey, but then it is a spa product.

Melts easily, hence finishes up quickly!

Available only through Iraya stores and online.

VERDICT: I loved how it worked on my skin. If you have dry skin like me, then you should give this a try.
RATINGS: 4.5 out of 5