It so happened, that yesterday I was having my dinner and my father had put on some music channel on the TV that was showing some old bollywood (Indian hindi movies) songs of 60s and 70s and some older even than this, and suddenly I realized I am concentrating on the makeup of the heroines, rather than the songs or my food. ;) And guess what I saw, all the recent and prevalent makeup trends were portrayed by all these beautiful actresses of yesteryears of Indian cinema. So I decided to post about it in my series of Beauty Check. I am going through only some of my finds,
Coral lips/Bright orange/Neons lips are so in this season. But can you remember Meena Kumari from Pakeezah (1972) with her orangish lips?
or Sharmila Tagore from Kashmir Ki Kali (1964)?

Speaking of Sharmila, if you thought nude lips is all about Kim Kadarshian, think again! Here is one diva who did all of the bold winged liners, nude lips, androgynous brows, in the movie An Evening In Paris (1967).
Vibrant eye makeups? Yes we have it too! Remember Helen and Bindu?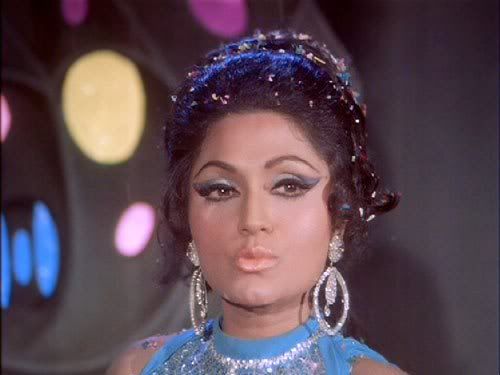 And who can rock the sexy red pout better than the ever gorgeous Rekha?
Well this post turned out to be an ode to bollywood divas ;), who rocked these trends many years ago through their beautiful movies. The trends are not new, but they keep coming back you see. Who knows 50 years from now you would again see these trends rocking the beauty and fashion world!
All images are from Google.