Yes, I have been hoarding bath products like anything! :D Continuing with the string of bath product reviews, today I am going to review the Vedic Line Aromatherapy Face and Body Wash with Black Currant. I loved the fact that it explicitly claims to be a face wash as well as a body wash, as I belong to those special species who love to use their body washes on face, face scrubs on body, lip balms on cuticles and such multitasking products :P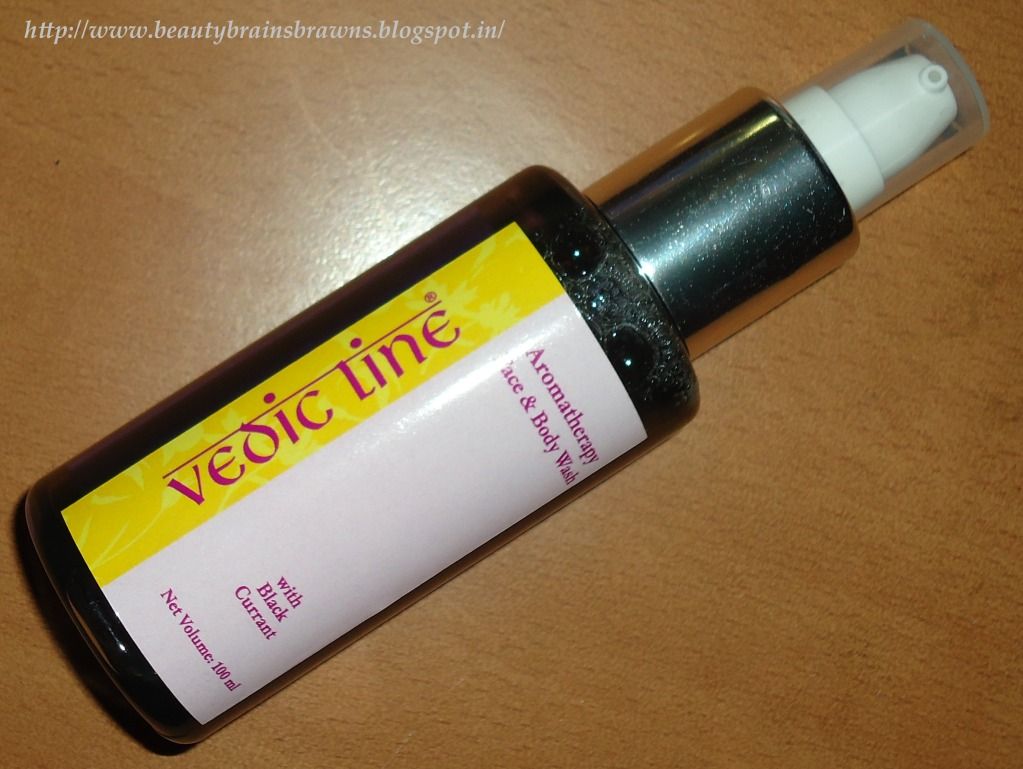 QUANTITY: 100ml
MY EXPERIENCE:
Vedic Line Aromatherapy Face and Body Wash is a pale violet shower gel, in a pump dispenser bottle. The packaging does make it completely leak proof and travel friendly, but only thing it squirts out so little amount, that I require to pump it 4-5times to get a palm full of the gel. It lathers decently and washes without leaving my skin dry, but it is not moisturising either. However, my facial skin did feel stretchy when I use it as a face wash.
Now coming to the smell, I have very limited experience of the Black Currant smell, with one of an ice cream and another might have been of some smoothie or a juice. However, the shower gel reminds me more of an incense stick smell that I couldn't place, but it is certainly invigorating and it relaxes me everytime. It is quite subtle, and hardly lingers on skin. The fact that it has anti-bacterial properties too, is an added benefit in this monsoon. Other than this I didn't notice anything special though it is comparatively pricier than other shower gels, given the quantity.
WHAT I LIKED:
The gel like consistency is perfect, it is neither runny nor too thick, but spreads and foams easily

.

Gives decent lather even without a loofah. Honestly, I never used a loofah with this one.

I love the smell, as it is so relaxing.

Doesn't dry out my skin and neither does it leave any residual layer.

I quite like the no-nonsense, leakproof, travel friendly packaging. Only had it pumped better, it would have been outstanding.
WHAT I DIDN'T LIKE:
Comparatively pricier for the quantity.

The smell hardly lingers after the bath.

It finished up real fast. Don't know if that's because I liked to use it more, or because the quantity was so less. ;)
VERDICT: It scored mainly for the lovely relaxing fragrance, which I liked the most and the fact that it is gentle enough to be used on face too. If you like trying out new body washes then you might give this a try!
RATINGS: 4 out of 5