*******************CLOSED****************************
Hey peeps! As promised I am here with my little *surprise*! Now before I go on to that. Here is a quick review on Headline Shirts!
ABOUT:
"
At Headline Shirts, we're obsessed with making intelligently funny tees and apparel. While that makes us lousy dinner guests, it makes us really good at making smart, great-looking stuff that you won't find anywhere else.
Our Vintageblend™ tees are hand-sewn right here in San Francisco, CA, using a super-soft, poly/cotton blend. As you might expect from a bunch of West Coast tree huggers, we use only Eco-friendly inks and materials right down to the compostible bags we ship them in.
We're pretty sure you're going to like what you get from us. But if you don't, let us have it. We want to do whatever it takes to fix it (unless that involves being the getaway driver in a heist or something).
Oh, and that baboon you see in the photos? You're wondering who that is, aren't you? That's our chief of operations, Robert. Robert Baboon. (Don't call him "Bobby" — he insists on Robert.) "
Don't they sound super cool :D ! I got a lovely chance to collaborate with them and I ordered this awesome tee from
Headline Shirts.
My order got confirmed in 3 days (considering two weekends in between) and it got delivered within 15 days (International shipping). They shipped it through United States Postal Service and provided me with a tracking number.
It came in a quite unique printed packaging which is bio-degradable. Not to mention, they are eco-responsible company. The
Headline Shirts
are priced at $24 but they put the popular tees on sale for $14 every week. Let's see what I got!
The tee is extremely soft and so comfortable and perfect to wear in this hot and humid weather, and the color is flattering too. I went out with my friends today for a casual lunch and movie, and one of them complimented that the color of the tee is so lovely! :D
Now comes the best part! The *surprise* :D One of the lovely readers of B.B.B would get a chance to win a
Headline Shirt worth $24! :D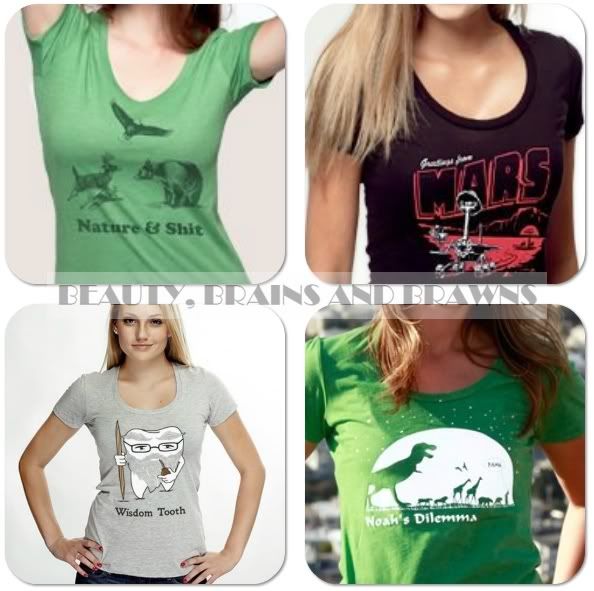 All you have to do is follow the simple rules!
Mandatory Rules: (For 2 entries)
Optional Entries:
+5 entries: Add the giveaway to your blog sidebar by adding the following code in a HTML/Javascript widget.

<br/><br/> <a href="http://beautybrainsbrawns.blogspot.in/2012/07/headline-shirts-review-and.html" target="_blank"><img src="http://i1050.photobucket.com/albums/s402/pooja_g/teecollage.jpg" width="200" height="200" border="0"/></a> <br/><br/>
+3 entries: Go to Headline Shirts. Choose your favourite tee and leave the url in the entry.
Sounds easy?! Now comment below with all the entries you did in the following format!
*******************************************************
*Mandatory entries:
*GFC:
*Email ID:
*Facebook profile name:
Email ID (Used to signup):
URL of the FB post
(Click on the timeline. Eg: "4mins ago." ):
URL of the Tweet
(Click on the timeline. Eg: "4mins ago." ):
*******************************************************
This giveaway is open to everyone worldwide (provided
Headline Shirts
ships to your country :P)! It starts from 1st July
, 2012
and would end on 1st August, 2012. Winners would be chosen through Random.org shortly thereafter . Winner will have 48 hours to respond failing to which a new winner will be chosen.
All the links will be thoroughly checked so don't enter anything you have not done. Don't use any fake profiles. Profiles with less than 10 followers/fans won't be considered valid!
Any un-following of blog after the giveaway ends will ban the person from future giveaways.Those who have un-followed previously are barred from this giveaway!
* The prize will be delivered by Headline Shirts. The blog and blog-owner are not liable for delivery discrepancies.
*Participants must be 18years age or must have parental consent. You need to provide your address in case you win.
**Received discount credits on the purchase but it doesn't influence my honest opinion! Read my disclaimer.
*******************CLOSED****************************