Yummy c

hocolate pastries, choco chips and chocolate sauce laden sundae icecreams, how do they sound as companions for a bath? :D That's what I can only think about, when I use the Soulflower Bite Me Chocolate Soap! And if you are a chocolate fanatic then you would be on cloud nine, but beware, the soap is not edible even though it says 'bite me' and smells yum!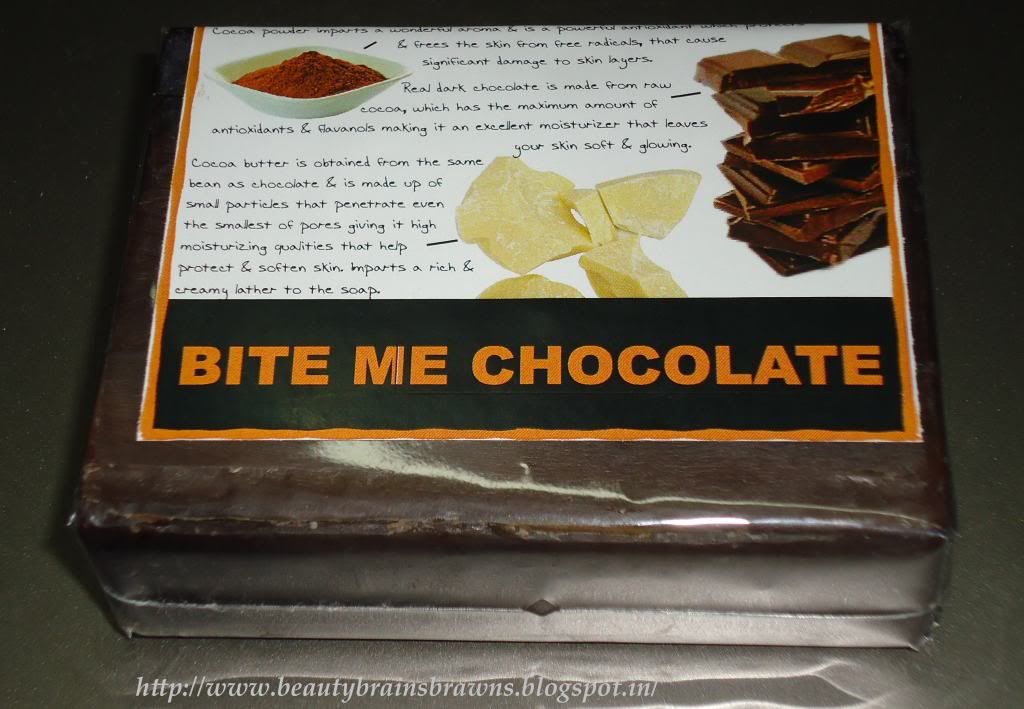 INGREDIENTS:
1. Real dark chocolate is made from raw cocoa, which has the maximum amount of antioxidants & flavanols making it an excellent moisturizer that leaves your skin soft & glowing.
2. Cocoa powder imparts a wonderful aroma & is a powerful antioxidant which protects & frees the skin from free radicals, that cause significant damage to skin layers.
3. Cocoa butter is obtained from the same bean as chocolate & is made up of small particles that penetrate even the smallest of pores; giving it high moisturizing qualities that help protect & soften skin. Imparts a rich & creamy lather to the soap.
Contains : Real dark chocolate, cocoa powder, cocoa butter, Vitamin E, glycerin, milk, aqua, saponified oils of olive, coconut, castor, palm & palm kernel.
WHAT IT CLAIMS:
" Some people say there are some things that chocolate can't do, but this yummy mouthwatering soap begs to differ. This moisturizer cum soap will coat your skin with soft luscious butters, helping to prevent skin from drying out & cell renewal & rejuvenating properties of chocolate keep your skin supple & radiant.

Take this chocolate bar into the shower everyday with you; enjoy its rich, creamy lather to get super soft skin. Suitable for dry, broken sensitive skin."
MY EXPERIENCE: The huge bar with the delightful chocolate smell smothers the senses from the first whiff! I got a bit smarter from
my last experience
, and this time I cut the soap into four pieces, and this way it lasted 4 times longer than the last time. From insides, it does look like chocolate sponge cake and I was really tempted to get a bite of it! :P But, I controlled myself and used it in the proper way only. It is neither drying nor too moisturising on my dry skin. I do need a layer of moisturiser to beat the slight stretchiness after a bath. Also, the yummy chocolaty smell is not retained by the skin at all :( , but it permeates through my whole bathroom and it smells like chocolate heaven ;) It does lather very well, and the lather itself is a creamy light brown in color. It cleanses skin properly, without any residual heavy feeling.To sum it up,
WHAT I LIKED:
Yummy chocolate smell to give you daydreams of a chocolate wonderland while you take a bath. :P

Vegan lovers, this is good news for you as it

contains only vegan ingredients and other essential oils

.

Lathers decently and doesn't dry out my skin.

Good quantity at a good price and lasts longer if properly used.
WHAT I DIDN'T LIKE:
I didn't find it moisturising enough, as per the claims.

The smell is not retained by the skin.
VERDICT:
Soulflower range is made of mainly vegan ingredients and goodness of essential oils
. If I have to recommend one soap from this range, then I would say indulge in the Bite Me Chocolate for sure! :) Don't forget to check out their super cute website!
RATINGS: 3.75 out of 5