Hey ya ladies! I am back with another nail polish review. I was looking for some neon orange and yellow shades. Faces Canada has been one of my favourite brands and I thought of trying out their nail polishes this time, and got the Persimmon shade for myself. Did it became my fave? Read on to know more.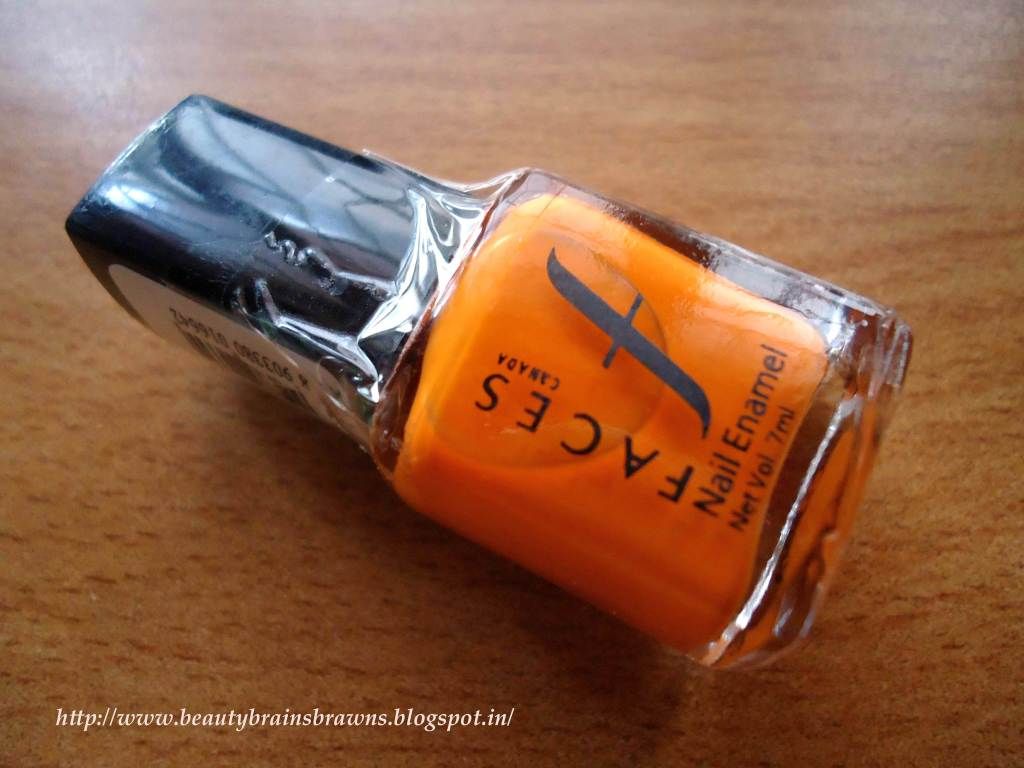 PRICE: Rs.
99
QUANTITY: 7ml
MY EXPERIENCE: First thing that caught my attention, was the shade. It reminds me of the color of the pulp of a ripe mango. Not that I am a big fan of mangoes, but the color is so beautiful. It is a neonish,bright orangish shade, the kind that makes mothers go "eew! what kind of shade is that" :P. The consistency is medium thick and would have spread nicely, had the brush was better at applying. The brush is pathetic (sorry forgot to take a pic of it) and almost like a "jhaaru (sweeper's brush :P)". It makes application streaky and putting a second coat turns horrific. It takes around 15 mins to dry up, and starts chipping in two days on my nails but that might be due to uneven application. What I have seen from
other
swatches
, the 40+ available shades are a mix of different finishes and quality. So, my views are specific for this shade only.
WHAT I LIKED:
The shade is a bright orange shade which I like.

No OTT smell.

It is Toluene & DBP free.

40+ shades to choose from.

Dries up decently fast.

Pretty affordable.
WHAT I DIDN'T LIKE:
The brush with this shade is pathetic. I hope they get consistent with the packaging and brushes, as I have heard good reviews for some shades and not so good reviews for some other shades.

Availability might be a problem, though you can buy it easily online.
VERDICT:
I really liked the shade. But because of the brush, I am not willing daring to try out the other shades. Hope I have a better luck if I get one next time.
RATINGS: 3.25 out of 5