Hey girlies! I am slacking on the product reviews on my blog, but I am back! :) Today I am going to talk about some amazing nail paints that I got to try out recently.
Lakmé is a household name in India, and this one brand has gone through several make overs, to suit the need of women of every generation. To cope up with the time constraints of a 21st century woman, Lakmé has come up with the Fast and Fabulous One Stroke Nail Color in their new launch of Lakmé Absolute range. So does it live up to it's claims? Read on!
QUANTITY: 10 ml
WHAT IT CLAIMS:
" Nail Color that gives a bright and dazzling shine to your nails. Lakme Absolute Fast and Fabulous One Stroke Nail Color - Wet to set in 40 seconds. Unique flat brush for one stroke application. This color will gives a bright and dazzling shine to your nails. "
SWATCH: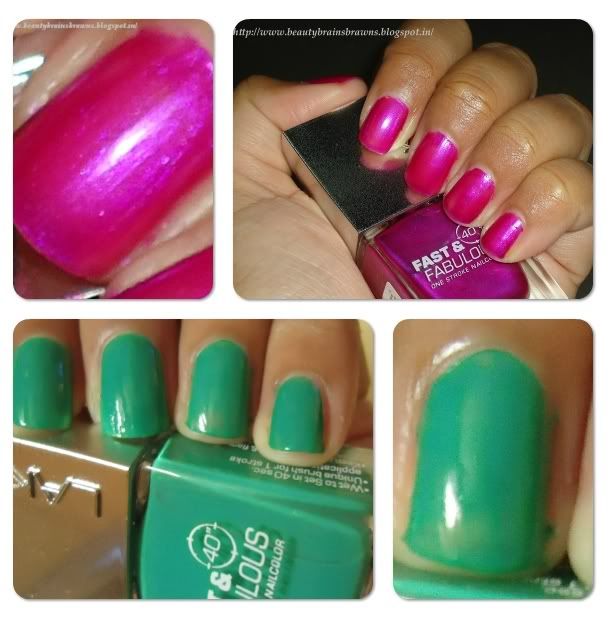 MY EXPERIENCE: The shades I have, Purple Fix and Going Green, on first glance weren't exactly my fave colors. But, when I swatched them, I went 'wow', because I didn't have any dupes of these fab shades in my little stash of nailpolishes. The Purple Fix is a bright magenta shade with a superb bluish/purple hue that attracted me the most, the kind of shade which brightens up the hands. On the other hand Going Green is a leafy green and is a bit different than the other pastel green shades that we get to see.
Purple Fix is of moderately thin consistency, while the Going Green is a bit thicker. My huge nails require two coats of the polishes for complete opaque coverage. As per the claims, it definitely dries up in less than 40 secs. But hey, don't try picking at the freshly applied nail paint (like I did to test it :P) , as the surface coat gets dried within 40 secs
definitely
but on the whole it takes a little more time to set. I tested again by picking/scratching the nails after 5 mins (ahh..the insane facts behind being a beauty blogger :P) and yes it was completely dry. :D
Both the polishes, give a glossy, shiny finish. Only thing that disappointed me is that, it starts chipping at the edges from the third day. In a nutshell,
WHAT I LIKED:
The polishes are of good consistency and applies easily.

The brush is really nice and helps in easy application.

Dries up super-fast as claimed, in 40 secs. You would be free to use your hands in just 5 minutes (just to be on the safe side of not squishing your polished nails :P ).

Maintains the shine/glossiness till it is removed.

Available in 30 amazing shades, with pastels, neons, metallics, to choose from.

I like the pretty packaging of the silver rectangle cap. It gives a better grip too.
WHAT I DIDN'T LIKE:
Starts chipping quickly.

Need two coats for full opacity.

VERDICT: This is by far the fastest drying polish I have ever come across. The quality is superb and application is smooth and easy. I am definitely looking forward to try out a few more shades. :D
RATINGS: 4 out of 5
**Product sent by PR for consideration but it doesn't influence my honest opinion! Read my disclaimer.